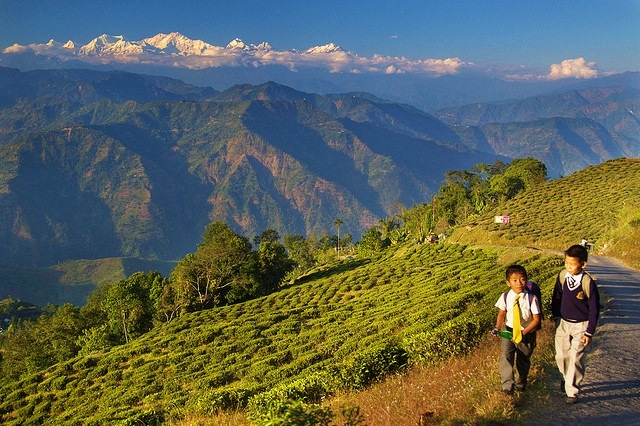 Eastern India
This region contains of five states - Chhattisgarh, Jharkhand, Odisha, West Bengal and Sikkim.

Eastern India is more or less rural and is less economically developed as compared to the rest of the country, but is culturally rich and blessed with natural beauty.

The architecture in Eastern India is known for the Buddhist monasteries of Sikkim, ancient temples of Chhattisgarh, the temples belonging to the Middle Ages in Orissa and terracotta temples of the recent past in West Bengal. Odisha and West Bengal have some fine examples of colonial heritage from the British Raj.

The major tourist destinations in the region include - Darjeeling, Kolkata, Puri, Konark, Bhubaneswar, Deoghar, etc.

UNESCO World Heritage sites

There are three UNESCO World Heritage sites: the Darjeeling Himalayan Railway, Sun Temple in Konark and Sundarbans National Park in West Bengal.

CHHATTISGARH STATE

It is the country's most densely forested state, blessed with natural beauty – waterfalls and unspoilt nature reserves. Chitrakot Waterfalls are famously known as Niagara Falls of India. Chhatisgarh is home to 42 different tribes, famous for its paintings, fine sculptures and colourful haats (markets) that take place across the region, particularly around Jagdalpur.

JHARKHAND STATE

As much of the state is covered by forest, Jharkhand is a heaven for nature lovers. Being a tribal dominated state, nature has been given utmost importance in every sphere of life and culture. A rich variety of flora and fauna present at Betla National Park, Palamau Tiger Reserve, Hazirabag Wildlife Sanctuary and Jawaharlal Nehru Biological Park in Bokaro Steel City.

ODISHA STATE

Formerly called Odisha, is known for its tribal culture and its many ancient Hindu temples.The 13th century Sun Temple in Konark is the designated UNESCO World Heritage site. The capital city Bhubaneswar is home to around 500 temples and has been nicknamed the Temple City of India.

WEST BENGAL STATE

The state capital Kolkata is known as the Cultural Capital of India. It hosts the world's largest book fair which are attended by record number of people. During the British colonial era from 1700–1912, Kolkata known as Calcutta served as the capital of British India.

The Eastern Indian handicrafts include silver filigree work, Patta and Patta Chitra painting, Tnat woven textile, Baluchari silk, Sambalpuri sarees, Kotki prints, paper pulp and wooden masks, Bastar wooden art, Dhokra metal casting, Lacquered toys, etc.

The Eastern Indian dances are known for Odissi, Mahari, Chau and Ghumura dance forms. Odissi is one of the eight classical dance forms of India, originating from the state of Odisha. It is the oldest surviving dance form of India. The Eastern Indian music is known for Rabindra Sangeet or Tagore Songs that were written and composed by Rabindranath Tagore, an important figure in Indian music, who has writen 2230 songs including the national anthem of India.