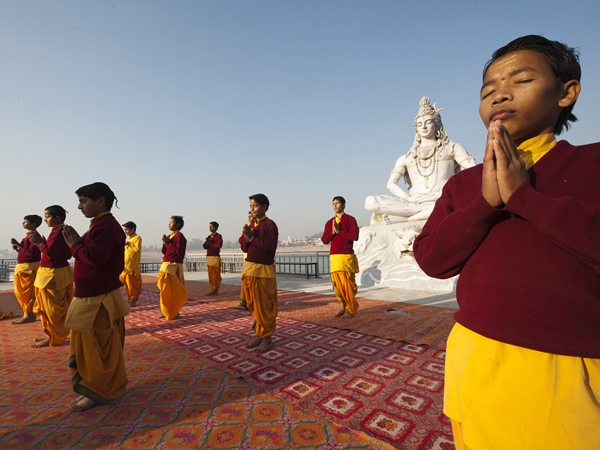 Rishikesh, The Yoga Capital Of The World
Rishikesh came to its fame after the legendary rock band the Beatles stayed in 1968 at the now closed Maharishi Mahesh Yogi's Ashram. In the late 1960's Rishikesh was on World map and the cynosure of the international media with rock stars and celebrities from across the world journeying there to find solace, to discover the meaning of life and to understand their true inner selves.

Rishikesh is a scenic town nestled in the foothills of the Himalayas in the Northern Indian state of Uttarakhand. Situated on the banks of the Ganges River and surrounded by hills on three sides the town is considered to be sacred and it's believed that meditation there leads to salvation and those who take a dip in water at Triveni Ghat wash away all the sins and purify their soul.

In Sanskrit Rishikesh is a name of Vishnu that means Lord of the Senses. It has been a part of the legendary Kedarkhand (the present day Garhwal). Legends state that Lord Rama did penance here for killing Ravana, the demon king of Lanka and Lakshmana, his younger brother, crossed the river Ganges, at a point, where the present Lakshman Jhula bridge stands today, using a jute rope bridge.

Today Rishikesh styles itself as the Yoga Capital of the World, where ashrams dot the landscape and the sacred river Ganges flows toward the plains. It is a holy city and home to the annual International Yoga Festival held in early spring which attracts participants from across the world. The town is a gateway to the upper Garhwal region and the starting point for the Char Dham four pilgrimage sites: Gangotri, Yamunotri, Badrinath and Kedarnath. Rishikesh is an ideal destination not only for pilgrims but also for the people who are interested in adventure, meditation, yoga and other aspects of Hinduism.

Many religious and pooja (prayer ritual) related articles are available in local bazaars in moderate rates. One will find Rudraksha, Ganesha idols, Nataraja statues, religious books and beautiful mythological sculptures as well as beautifully knit Kurtas and Salwar Kameez that are a specialty of this region.

Despite the growing number of visitors, the town's lanes and alleys retain an old-world charm, and it remains a wonderful place to relax and unwind amongst nature. It is now a popular white-water rafting centre and a gateway to treks in the Himalayas. Rappelling, rock climbing, cliff jumping, kayaking, bungee jumping are popular activities in the area.

It is need to be mentioned that Rishikesh is a vegetarian city by law, as well as an alcohol-free city. It has also banned use of plastics bags by shopkeepers and vendors.

The city has many landmarks of cultural and religious significance: Triveni Ghat, Trayambakeshwar Temple, Bharat Mandir, Ram Jhula (bridge), Lakshman Jhula (bridge), Gita Bhavan are the places not to be missed during the stay in Rishikesh.