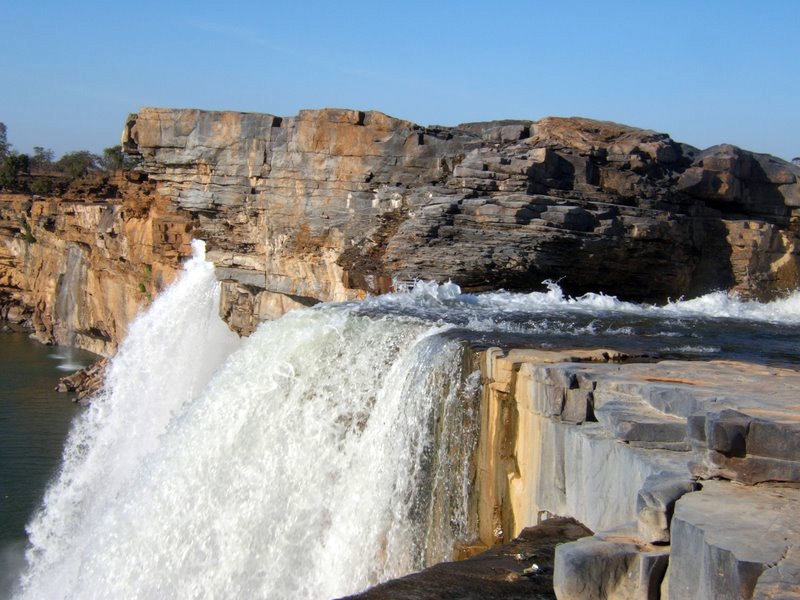 Chhattisgarh
Chhattisgarh is a state in Eastern India. The state's capital is Raipur.
It is the country's most densely forested state, blessed with natural beauty – waterfalls and unspoilt nature reserves.
MAJOR TOURIST SITES
Major tourist destinations include Bastar Palace in Jagdalpur, Kutumsar and Kailash Caves near Jagdalpur, Chitrakot Falls, known as Indian Niagara Falls, Tiratharh Falls, Indravati National Park, Bhoramdeo Mandawa Mahal Temple, known for its carved erotic sculptures, etc.
NATIONAL PARKS
There are three national parks and eleven wildlife sanctuaries in Chhattisgarh including: Indravati National Park, Kanger Ghati National Park, Guru Ghasidas National Park, Sitanadi Wildlife Sanctuary, Udanti Wildlife Sanctuary, Achanakmar Wildlife Sanctuary, etc. Wildlife Sanctuaries in Chhattisgarh are inhabited by the endangered Wild Buffalos – the state animal and Hill Myna - state bird of Chhattisgarh respectively.
HANDICRAFTS
The region is home to 42 different tribes. Traditional crafts include painting, woodcarving, bell metal craft, bamboo ware and tribal jewellery. Chhattisgarh is also known for Kosa silk and lost wax art.
FESTIVALS
Every January Chhattisgarh Tourism Board organizes Sirpur Dance and Music Festival. This three days event is a confluence of art and culture and includes dance and music of classical, folk as well as tribal genres (January). Other festivals include: Bhagoriya Festival celebrated by Bhil tribe (February/March); Bhoramdeo Mahotsav Festival celebrated within the premises of the Bhoramdeo temples (March); Chakradhar Musical Festival (September/October); Goncha – a tribal festival celebrated in the district of Bastar (July), etc.
FOOD
Chhattisgarh is known as the rice bowl of Eastern India. Most of the traditional and tribal foods are made of rice and rice flour, curd and a variety of green leafy vegetables. Some of the popular dishes include: muthia (steamed dumplings prepared with the rice batter), aamat (mixed vegetable dish prepared in the bamboo shoots), chila (flat chapati like dish prepared with the rice batter mixed with the Urad Daal), sabudana ki kichdi (a dish prepared with the soaked Sabudana balls), bara (a light snack made from the fermented Urad Dal), faraa (rice dumplings), dubki kadi (a pulse-like dish mainly cooked with the curd). The sweet meals include tilgur of til k ladoo (roasted sesame seeds mixed with the dark jaggery and peanuts), khurma (prepared with the milk and vermicillies), etc.
CLIMATE
The climate of Chhattisgarh is tropical. The temperature varies between 30 and 45 °C (86 and 113 °F) in summer and between 0 and 25 °C (32 and 77 °F) during winter. The monsoon season is from late June to October.
Best time to visit depends on the type of activities. Summer is the best time for wildlife and nature tourism. The national parks and wildlife sanctuaries receive the most number of visitors during this time because of the high chance of spotting animals. However, for touring cities and the mountainous areas, winter is more suitable.