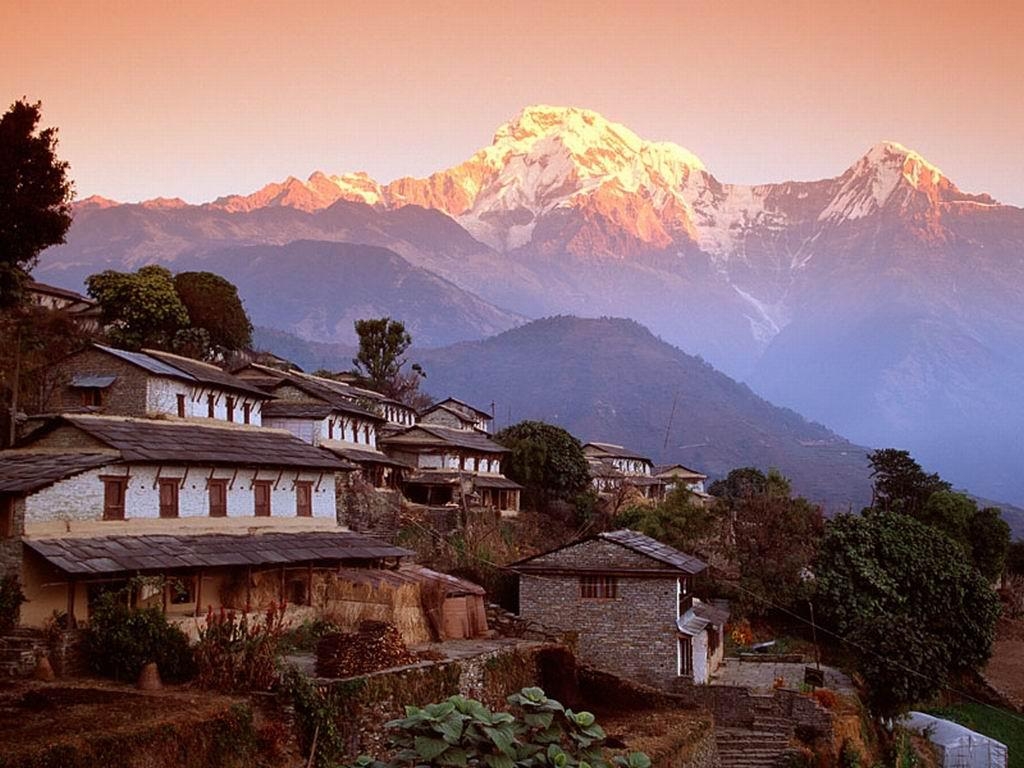 Uttarakhand
Uttarakhand is a state in North India. The capital of the state is Dehradun. The state shares international border with China in the north and Nepal to the east. Some areas require a special permit to visit.
Ancient temples, forest reserves, national parks, hill stations, and mountain peaks draw large number of tourists making Uttarakhand a popular tourist destination.
For Hindus Uttarakhand is the Land of Gods. Two of India's largest and holiest rivers, the Ganges and the Yamuna, originate in glaciers of the region. The state is a popular destination for religious tourism. Every year during the yatra (pilgrimage) season (April to November) hundreds of thousands of dedicated Hindu pilgrims visit char dham - ancient temples that mark the spiritual sources of four sacred rivers: the Yamuna (Yamunotri), the Ganges (Gangotri), the Mandakini (Kedarnath) and the Alaknanda (Badrinath).
UNESCO World Heritage Sites
Nanda Devi National Park is a designated UNESCO World Heritage Site.
MAJOR TOURIST SITES
Major tourist destinations include: Haridwar, Rishikesh, Jim Corbett National Park, Mussoorie, Almora, Nainital, etc.
NATIONAL PARKS
The region is known for its natural beauty of the Himalayas, glaciers, alpine meadows, lakes and rivers. Among most popular national parks are: Valley of Flowers and Nanda Devi National Park and Jim Corbett National Park - the oldest national park of India and home to the endangered Bengal tiger.
FESTIVALS
Some of the popular Festivals and Fairs of the region are: Magh Mela – an annual religious fair at Haridwar (January and February); International Yoga Festival at Rishikesh (March); Shivaratri - a festival celebrated with carnival rides and stalls at a picturesque riverside cave temple on the outskirts of Dehra Dun (March); Nanda Devi Fair – a five day fair with image of the goddess parade, dances and cultural shows at Almora (September).
HANDICRAFTS
The handicrafts of the region include handcrafted gold jewellery, basketry, handmade woolen shawls, tweeds, scarves, and rugs.
FOOD
Uttarakhand cuisine is primarily vegetarian, although non-vegetarian food is also served. Some of the popular dishes are: chainsoo (dry or gravied dish prepared by using black gram dal), kafuli (a thick gravy dish made from green leafy vegetables), jholi (very thin and watery gravy usually made with tomatoes, potatoes, tubers, curd and asafoetida). Roat is a popular sweet meal made of sweet bread flavoured with fennel soaked water.
CLIMATE
The climate and vegetation vary greatly with elevation. The average temperature stays around 30o C (86 o F) in summers and 2o C (35,6 o F) in winters.
The best time to visit is in March to June and September to October.