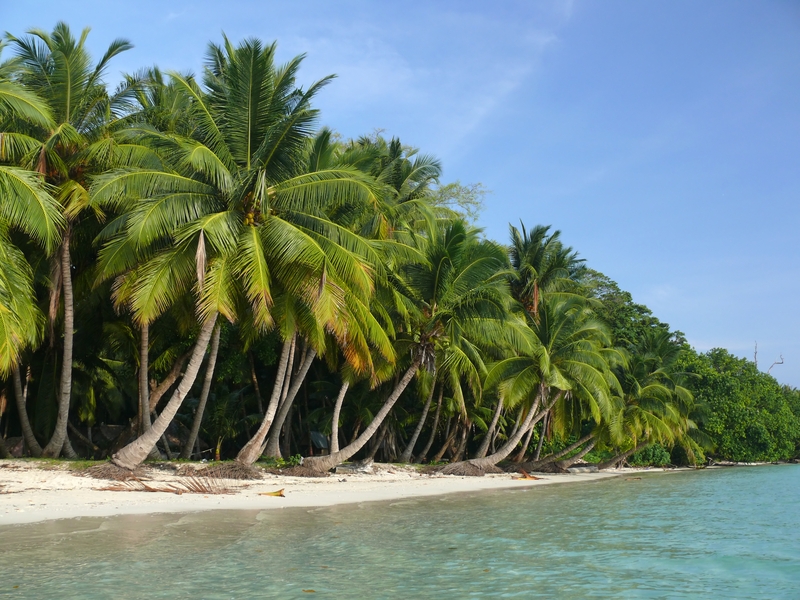 Andaman and Nicobar
The Andaman and Nicobar are a group of 572 islands situated at the juncture of the Bay of Bengal and Andaman Sea. Only about 36 islands are permanently inhabited. The Andaman is separated from the Nicobar by the Ten Degree Chanel. The islands are located 150km (93mi) from Indonesia and 190km (118mi) from Myanmar. The largest town and the main entry point to the islands is Port Blair.

Foreigners need a permit to visit the Andaman Islands. Permits are issued on arrival and allow traveling in the Andaman Islands (excluding tribal areas), while the Nicobar Islands are off limits to all except Indian nationals engaged in research, government business or trade. For more information please check on Tourism Board website.
MAJOR TOURIST SITES
Some of the most beautiful beaches and frequently visited islands are: Merk Bay, Ross and Smith Islands, Beach 5, Butler Bay, Havelock Island, Neil Island, Chiriya Tapu, Ross Island, Cinque Island, Long Island, Wandoor, etc.
NATIONAL PARKS
The islands encompass three ecosystems – tropical forests, mangroves and coral reefs. The fauna and flora are rich with endemic bird and mammal species that are unique to the islands. The dark jungle hills and isolated beaches are breeding grounds for turtles and home to crab-eating macaque, masked palm civet, ground-dwelling megapodes, hawabills (swiftlets), emerald Nicobar pigeon, saltwater crocodiles, etc.
FESTIVALS
Major Festivals of Islands include: Island Tourism Festival – cultural event promoting tourism at Port Blair with performances of popular music bands, singers and dancers (January); Beach Festival with varied sport games, food courts and various entertainments (April); Music and Monsoon Festival - cultural event promoting tourism (August); Food Festival – a four day festival exhibiting the ethnic food (September); Film Festival – a classical films festival at Port Blair (November), etc.
HANDICRAFTS
The islands are home to fascinating tribal groups. The handicrafts of the Islands include shell jewellery, palm mats, coconut shell lampshade, wood crafts, bamboo cane craft and Nicobaree mats.
FOOD
There is no particular cuisine that can be termed as Andamanese or Nicobarese. Seafood plays a major role and a wide variety of fish, crabs, lobsters and prawns are easily available at the many restaurants and eating places on the Islands.
CLIMATE
Andaman and Nicobar has a tropical monsoon climate with the average temperature around 23°C (73.4 °F) to 31°C (87.8 °F) and the humidity at around 80% through the year. Heavy monsoon rains are experienced between May and October. November to December also have their fair share of rainy days.
Best time to visit is between mid-November and April.