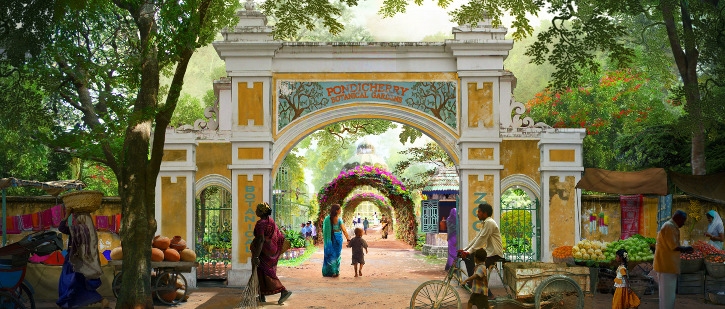 Puducherry
Puducherry (formerly Pondicherry) is the Union Territory in the Southern India. It is situated on the Bay of Bengal and the Arabian Sea.
This coastal town was a French colony for about 200 years. Puducherry consists of two parts: the French Quarter (Ville Blanche or White town) and the Indian quarter (Ville Noire or Black Town).
Eight kilometres north-west of the city is an Utopical town Auroville. Also known as the City of Dawn it was created as a universal town where men and women could live in peace and harmony above all creeds, all politics and all nationalities. The symbol of Auroville is centrally located Matrimandir (a golden metallic sphere).
Puducherry is also home to Sri Aurobindo Ashram that makes the city an important destination for spiritual seekers.
MAJOR TOURIST SITES
Major tourist sites include: Basilica of the Sacred Heart of Jesus, Botanical Gardens, Cathedral of Our Lady of the Immaculate Conception, Puducherry Museum, Sri Manakula Vinayagar Temple, Auroville, etc.
NATIONAL PARKS
The Ousteri Lake is known for a bird sanctuary that is home to a wide range of aquatic species.
FESTIVALS
The major festivals include International Yoga Festival – an annual festival which attracts yoga masters from all over India. Workshops, classes, music and dance events are organized at ashrams throughout the city (January); Bastille Day – a festival influenced by French culture is known for number of colorful parades and is celebrated with great zeal in the streets of the city (14 July).
HANDICRAFTS
Puducherry does not have any traditional handicrafts. The Sri Aurobindo Ashram factory produces candles, incense sticks, handmade paper that makes good souvenirs.
FOOD
Puducherry's cuisine has a strong South Indian influence in particularly of Tamil Nadu. Specialties of the region include: coconut curry, idli (savoury cake made of rice), dosa (crepe made from rice batter and black lentils), vada (a savoury doughnut), sambar (lentil based vegetable stew), tandoori potato, etc. Puducherry is also known for French and Italian cuisines.
CLIMATE
Puducherry experiences hot and humid climate. The temperature ranges between 29° C (84,2 °F) to 40 °C (104 °F), in the summers (March-July) and 24°C (75,2°F) to 30 °C (86°F) in the winters (November-February). Monsoon rains hit the coast from July to August.
Best time to visit is between mid-November and April.