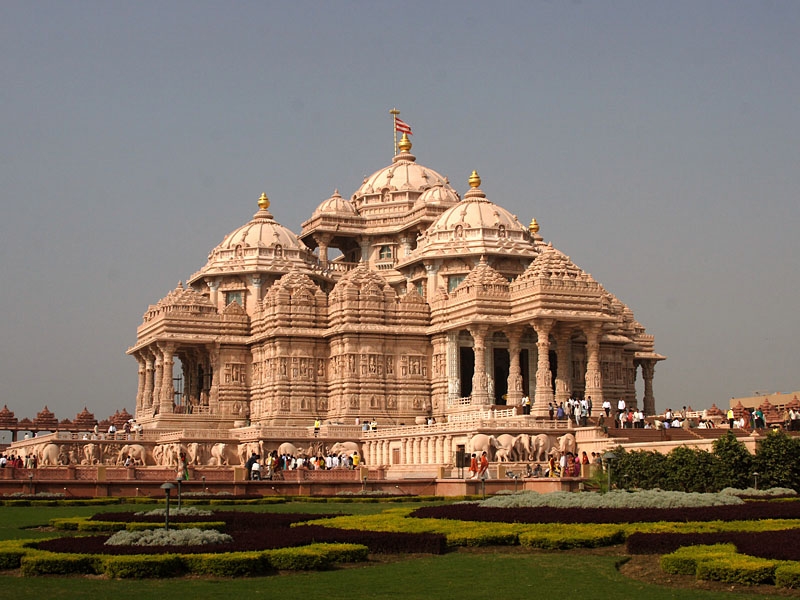 New Delhi
New Delhi is the capital city of India. It is a cosmopolitan, multi-ethnic and multicultural vibrant city with a population of around 23 million in the metropolitan area and 11 million living in the city.
New Delhi's architecture is a symbol of British power and supremacy. The heart of New Delhi is Connaught Place (CP) with the British-designed colonial architecture. The Old Delhi, once the capital of Islamic India, is a labyrinth of narrow lanes lined with traditional havelis, bazaars and mosques.
UNESCO World Heritage sites
There are three Unesco World Heritage sites: Red Fort (Lal Qila), Humayun's Tomb and Qutub Minar.
The Red Fort is a historic fort in the city and the main residence of the emperors of the Mughal dynasty for nearly 200 years. Every year on Indian Independence Day (August 15) the Prime Minister delivers a speech to the nation from the ramparts at the gate.
The Humayun's Tomb is the tomb of the Mughal Emperor Humayun. It was the first garden-tomb in India and the symbol of Mughal architecture built in the 16th century.
The Qutub Minar is a 73-metre (239.5 feet) tall minarete built in 1193.It is considered the highest tower in India.
MAJOR TOURIST SITES
Other recommended sites to see: India Gate, Lodhi Garden, Lotus Temple, Gurudwara Bangla Sahib, Jama Masjid, Lakshmi Narayan Temple (Birla Mandir), Swaminarayan Akshardham Temple, Kingdom of Dreams, etc.
MUSEUMS
The popular museums in the city include National Museum, Indira Gandhi Memorial Museum, National Gallery of Modern Art, National Museum of Natural History, National Rail Museum with steam-age behemoths, National Handicrafts and Handlooms Museum, Nehru Planetarium, Shankar's International Dolls Museum, etc.
SHOPPING
Amongst the most popular markets and bazaars are: Janpath and Tibetan Market, located just off Connaught Place. It is a popular touristic shopping place selling handicrafts from all over the country.
Dilli Haat market designed as a small village for tourists combining handicrafts from all over India, food, and cultural and music performances. The market is located is South Delhi, could be reached by taxi or metro.
Haus Khas Village with designers boutique shops, bars and restaurants.
Paharganj market, opposite the New Delhi Railway Station, is the best for bargain shopping in Delhi, popular among backpackers.
Shopping district of Chandni Chowk in old Delhi, with different areas of specialization like fabrics, jewelry, spices, and electronic goods. Closed on Sundays.
Sarojini Nagar in South Delhi is famous for its really cheap designer clothes and reputable brands that have been rejected from export. Closed on Mondays.
Khan Market located not far from India Gate with restaurants, coffee places, boutique shops, selling branded and tailored clothes, etc.
SHOPPING MALLS

Popular shopping malls in Delhi include: Select Citywalk in Centre Saket, DLF Promenade Mall in Vasant Kunj, Pacific Mall in Tagore Garden, Ambience Mall in 2 Nelson Mandela Marg, etc.
HANDICRAFTS EMPORIUM
Central Cottage Industries Emporium in Janpath is a prime choice of handicraft shopping. Other emporiums include: Indian Handicrafts Emporium in South Delhi, Bharati Delhi Emporium in Connaught Place, etc.
FOOD

New Delhi is popular for street food like shakarkandi (roasted and spiced sweet potato served with slices of star fruit, lime juice and masala), aloo tikka (deep-fried stuffed potato patties), Nihari (rich, spicy broth of slow cooked meat served alongside hot tandoori rotis or preferably khameeri rotis), bhature chole, a dish from the Punjabi cuisine, a combination of spicy white chickpeas and a fried bread made from soft wheat. Sweets include kheer (rice pudding), kulfis (ice cream), kuremal ice cream and deep fried fritters drenched in sugar syrup, etc.
FESTIVALS

Major festivals and fairs in New Delhi include: Republic Day (26 January) known for a spectacular military parade, Independence Day (15 August) marking India's independence from Britain in 1947 with the prime minister addressing the nation from the Red Fort ramparts, Qutb Festival held over several days in November-December and featuring Sufi singing and classical dance performances, Delhi International Arts Festival - three weeks of exhibitions, performing arts, films, literature and culinary events at Delhi-wide venues. Gandhi Jayanti (Gandhi's birthday, 2 October) are celebrated with great enthusiasm, etc.
TRANSPORT
The means and modes of transport in New Delhi are many, ranging from the Metro Trains, Buses, Taxies and rickshaws. Uber and Ola are also available in Delhi.
The Delhi Metro is a fast, clean and efficient form of public transportation.
Buses in Delhi are cheap and the network of bus routes is extensive. They are, however, probably the least comfortable way to travel.
There are two kinds of rickshaws in Delhi – cycle rickshaws and auto rickshaws. They are an inexpensive way to travel short distances.
CLIMATE

Delhi is known for hot summers and mild winters. The temperature varies from 46 °C (115 °F) in summers to around 0 °C (32 °F) in winters.
The best time to visit is in mid October to April.