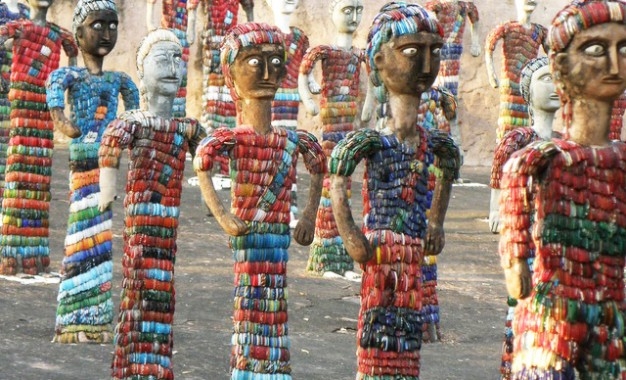 Chandigarh
Chandigarh is a Union Territory in North-Central India and the capital city of two states: Haryana and Punjab. Chandigarh is the first planned city in India post-independence (1947) planned by a Swiss-French architect Le Corbusier. Chandigarh is a green city, with broad streets and many parks. It was the first smoke-free city in India.
MAJOR TOURIST SITES
Major tourist sites in the city include: Rock Garden, Sukhna Lake, Capitol Complex, Le Corbusier Centre, Rose Garden, Leisure Valley, Terraced Garden, etc.
Capitol Complex is a government compound designed by the architect Le Corbusier. It comprises three buildings, three monuments and a lake, including the Palace of Assembly or Legislative Assembly, Secretariat, High Court, Open Hand Monument, Geometric Hill and Tower of Shadows. The complex was added in UNESCO World Heritage Site List in 2016.
Permissions needed to visit the Complex. For more information please check Chandigarh Tourism Board website
Amongst other major tourist attractions in Chandigarh is Rock Garden, consisting of man-made interlinked waterfalls and many other sculptures that have been made of scrap and other kinds of wastes (bottles, glasses, bangles, tiles, ceramic pots, sinks, electrical waste, etc.)
NATIONAL PARKS
Chandigarh is located near the foothills of the Sivalik range of the Himalayas in north-central India. The city is surrounded by protected forests that inhabit many animal and plant species, like deer, sambars, barking deer, parrots, woodpeckers and peacocks. Sukhna Lake hosts a variety of ducks and geese, and attracts migratory birds from parts of Siberia and Japan.
FESTIVALS
Amongst the most popular festivals are: Teej festival (August), Rose festival (February), Chrysanthemums Show hosted every year at the Terraced garden (November/December).
HANDICRAFTS
Punjab and Haryana has a rich tradition of arts and crafts. The traditional Punjabi embroidery known as Phulkari is an extensively followed work of art done over shawls, dupattas and headscarves, etc. Popular handicrafts include Punjabi juttis (shoes), known worldwide for its exquisite design and intricate pattern; Punjabi Paranda - a colorful hanging worn by the Punjabi women in their hair made out of a bunch of silk threads, intricately woven with other skillful works. Popular handicrafts of Haryana include woven furniture, artistic pottery and woodcarving.
FOOD
Chandigarh cuisine is inspired by Punjabi cuisine, with Punjabi foods like paratha (flatbread) and roti made from corn flour (makki) with sarson da saag (vegetable dish made from mustard leaves and spices), Lassi (sweet yogurt), Rajma (vegetarian dish consisting of red kidney beans in a thick gravy), Cholay-bhature (spicy chick peas and fried bread), Gol Gappa (a round, hollow puri, fried crisp and filled with a mixture of flavored water, tamarind chutney, chili, chaat masala, potato, onion or chickpeas) is a famous snack.
SHOPPING
Elante Shopping Mall houses over 235 premium national and international brands, Entertainment Zone and a host of Food & Beverage Options.
The City Center mall in sector 17 - an outdoor pedestrian promenade with major brand stores.
TRANSPORT
The easiest way to travel in Chandigarh is by taxis. There are two app operators in the city - Uber and Ola.
Cycle rickshaws and auto rickshaws are an inexpensive way to travel short distances.
CLIMATE
Chandigarh has a humid subtropical climate with very hot summers, mild winters and heavy monsoons. Average temperatures in the winter remain at 5 °C to 14 °C (41 °F to 57,2 °F) and vary between 40 °C to 42 °C (104 °F to 107,6 °F) in summers.
The best time to visit is in mid October to April.