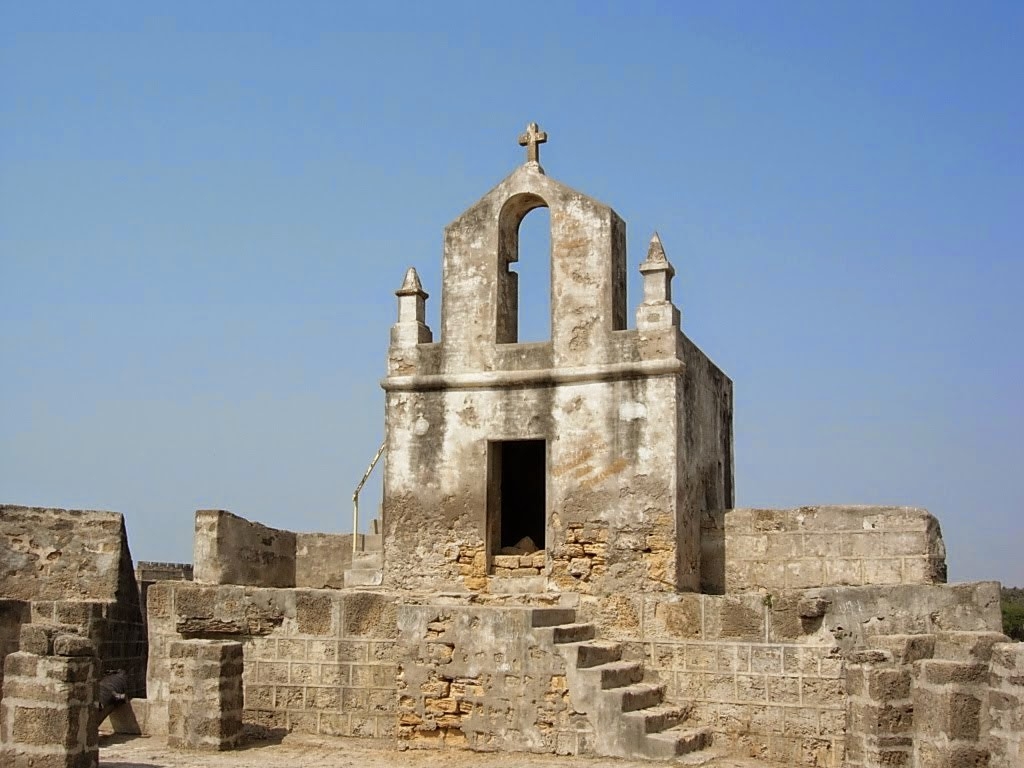 Daman and Diu
Daman and Diu is a Union Territory in the Western India. The territory comprises of two separate units: Diu and Daman that are geographically separated by the Gulf of Khambhat. The distance between the two by road is 635 km (394 mi).
Diu is a small island separated from the Gujarat coast by a narrow chanel while Daman is a small enclave located along Gujarat Maharashtra border.
Daman and Diu were Portugal colonies for more than 450 years.
Out of the two Diu has greater Portuguese influence. The tiny island of Diu with a total area of 39 sq.km (15 sq.mi) is linked by two bridges to Gujarat's southern coast. The biggest settlement in the region is the town of Diu. Diu is renowned for historical churches and forts, winding streets, narrow paved lanes, vintage houses of colonial era.
Daman is a small port situated on the coast of the Arabian Sea. The total area of the district is 72 sq.km (28 sq.mi). It is a beach resort and an industrial hub with a coastline of about 12 km (8 mi). Daman town is the biggest settlement in the region and remains Portuguese atmosphere with a fusion of tribal, urban and Indian culture.
MAJOR TOURIST SITES
The major tourist sites in and around Daman include: Bom Jesus Church, Our Lady of Sea Church, Our Lady of Remedios Church, Forts of Moti Daman and Nani Daman, Jampore and Devka Beaches, etc.
Majour tourist sites in Diu include: St. Paul's Church, Diu Fort and Panikota Fort, Nagoa and Chakratirth, Children's park at Ghoghla, etc.
FESTIVALS
The region celebrates a variety of religious and cultural festivals including Holi – Spring Festival (February/March); Diwali – Festival of Lights (October/November); Mahashivratri – Hindu festival celebrating the marriage of Lord Shiva and his wife Parvati (February/March); Id-ul-Fitr – Muslim Festival marking the end of Ramadan, the Islamic holy month of fasting (June/July); Liberation Day - a festival celebrated region wide to mark the end of Portuguese rule (December 19th); Nariyal Poornima - regional festival, also known as the Coconut Full Moon signifying the end of the monsoon season and the beginning of the fishing season for the fishermen. During this festivals the seashores are gathered with crowds of people offering coconuts to the sea as a symbol of thanksgiving.
HANDICRAFTS
The handicrafts of the region are known for old mat weaving tradition, ivory carving and household items made from tortoise shell, etc.
FOOD
The cuisine of the region has strong Gujarat and Portuguese influence. Fresh catch fish and seafood are popular foods. Some of the dishes prepared on festive occasions include puri (unleavened deep-fried Indian bread), lapse (cracked wheat pudding), etc. Banana Lassi (curd drink) is a popular beverage.
CLIMATE
The climate in Daman and Diu varies. Daman has a tropical climate with an average temperature of 32 °C (89.6 °F) throughout the year with monsoon rains from June to September. Diu has relatively cooler climate. The maximum and minimum temperature of Diu town is of 32 °C (89.6 °F) in summer and 22 °C (71.6 °F) in winter.
Best time to visit is between mid-October and April.