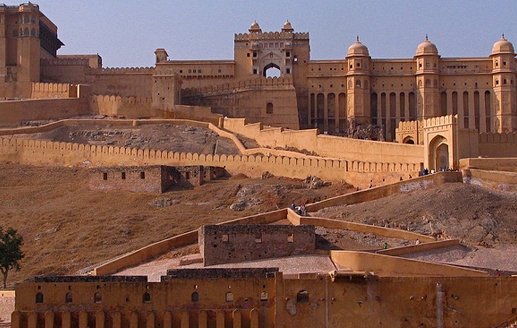 Rajasthan
Rajasthan is a state in Western India. It is the largest state by area sharing an international border with Pakistan. The capital city is Jaipur.

Rajasthan is renowned for its historical forts (Jaipur, Jodhpur, Jaisalmer, Bundi, Bikaner), palaces (Jaipur, Udaipur), intricately carved Jain and Hindu temples (Ranakpur, Jaisalmer), havelis (traditional ornately decorated residences), the Thar Desert, National Parks and Tiger Reserves (Ranthambore National Park, Sariska Tiger Reserve).

The state is home to colorful cities including the Pink City (Jaipur), Blue City (Jodhpur), Golden City (Jaisalmer) and White City (Udaipur). Rajasthan ranks among the most popular destinations in India.

UNESCO World Heritage Sites

There are three UNESCO World Heritage sites in the state: the Hill Forts of Rajasthan (Chittorgarh Fort, Kumbhalgarh Fort, Ranthambore Fort, Gagron Fort, Amber Fort, Jaisalmer Fort), Jantar Mantar (astronomical observatory in Jaipur) and Keoladeo National Park.

MAJOR TOURIST SITES

Major tourist destinations in the state include: Jaipur, Udaipur, Rathambhore National Park, Jaisalmer, Jodhpur, Pushkar, etc.

NATIONAL PARKS

Despite being the desert state, Rajasthan has a good number of national parks. Amongst the popular ones are: Ranthambore National Park, Sariska Tiger Reserve, Keoladeo Ghana Bird Sanctuary, Desert National Sanctuary and Mount Abu Sanctuary.

HANDICRAFTS

Traditional handicrafts of the region include miniature paintings, blue-glazed pottery, colourful papier-mache puppets, silver jewellery, jutis (traditional shoes), carpets, block prints, tie and dye prints, Zari embroidery (using gold or silver thread), camel leather bags and the special type of embroidery using small pieces of mirrored glass onto fabric in the form of wall hangings, cushion covers, bags, etc.

FOOD

Rajasthani cuisine is well known for its spicy curries and sweets. The specialties of the region include: dal batti churma (lentil curry with a roundel of stuffed flour and a sweet dish made of sugar and ghee), mirchi bada (spicy snack consisting of chilli and potato stuffing), besan ki chakki (a traditional Rajasthani sweet made of gram flour), gatta (gram-flour dumplings cooked in a yoghurt sauce), mawa kachori (a pastry filled with sweet dried fruits), Ghewar (deep-fried sweet dish), makhania lasi (saffron flavoured yogurt drink), moong dal ka halwa (sweet dish of lentils sweetened with milk and sugar), etc.

FESTIVALS

The region celebrates many festivals. It is internationally known for Rajasthan's desert festival held once a year during winter with fairs, snake charmers, puppeteers, acrobats and folk performers, dressed in brilliantly hued costumes (February). Other popular festivals in the state include: Elephant Festival (March); Gangaur – a religious state wide festival honouring Shiva and Parvati's love (March/April); Mewar Festival – a religious festival similar to Gangaur celebrated in Udaipur (March/April); Teej - a festival celebrating Shiva and Parvati's marriage (August); Dussehra Mela – a festival celebrating Rama's victory over demon king Ravana (October); Marwar Festival – dance and music festival (October); Pushkar Camel Fair (October/November).

CLIMATE

Rajasthan state experiences hot and dry climate. The average temperature in summers (April to June) is around 32° C (89.6° F) to 45° C (113° F) and in winters (December to March) 10° C (50° F) to 27° C (80.6° F). The monsoon season is from July to September. From October to November is the post monsoon season with the average temperature ranging from 18° C (64.4° F) to 38° C (100.4° F).

Best time to visit mid mid November to March.