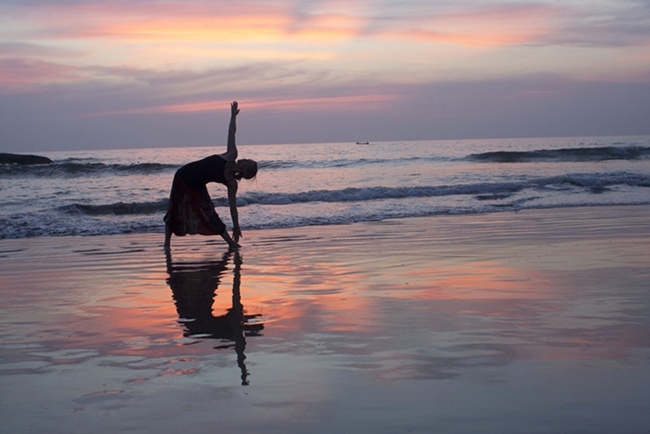 Goa
Goa is the smallest state in western India situated on the coast of the Arabian Sea. Goa's coastline stretches for 101 km (63 mi). The capital is Panaji while the largest city is Vasco da Gama.
Goa is known as the most popular beach destination of India. The state is renowned for its pristine, white sand beaches, Portuguese colonial heritage, historical churches, old forts, temples, places of worship, UNESCO World Heritage Sites, fresh seafood, numerous festivals and parties, Yoga classes, rich flora and fauna, forests and waterfalls, spice plantations, elephant camps, etc.
NORTH GOA AND SOUTH GOA
The state is divided into two districts: North Goa and South Goa.
North Goa is known for its trance parties, package tourism, shopping. It is more commercial and is suitable for the ones seeking active vacations and being in the centre of happening. Popular beaches: Anjuna, Arambol, Calangute, Candolim, Mandrem, Morjim, Vagator, etc.
South is more relaxed and quiet with high-end hotels, private beaches and calmer crowds. Popular beaches: Cavelossim, Colva, Margao, Mobor, Palolem, Varca, etc.
The inland of Goa is known for its spice plantations, waterfalls, colonial and cultural heritage in the form of Portuguese mansions, cathedrals and Hindu temples.
Goa was a Portuguese colony for more than 450 years.
UNESCO World Heritage Sites
Goa has two UNESCO World Heritage Sites: the Bom Jesus Basilica and Churches and Convents of Old Goa. The Basilica holds the mortal remains of St. Francis Xavier, making it a popular pilgrim destination for Christians.
MAJOR TOURIST SITES

Major tourist sites in Goa's state include: Old Goa Churches, Panaji city with its basilicas, churches, temples, Old Latin Quarter and Forts; Sri Mangeshi Temple (Ponda), Fort Aguada (Sinquerim), Church of St. John the Baptist (Benaulim), Church of Holy Spirit (Margao), Mae De Deus Church (Saligao), Menezes Braganza House (Chandor), Fort Terekhol (Panaji), Palacio do Deao (Quepem), Dudhsagar Falls, Spice Farms and plantations (Ponda), etc.
NATIONAL PARKS AND SPICE PLANTATIONS

Goa has many natural parks, rich fauna and flora and a wide variety of bird species. Popular National Parks in the state include: Salim Ali Birds Sanctuary, Bondla Wildlife Sanctuary, Molem Wildlife Sanctuary, Cotigao Wildlife Sanctuary, etc.
Spice plantation tour is among recomended things to do in Goa. Some of the plantations include -Tropical Spice Plantation in Keri in Ponda Taluka (about 29 km from Panaji), Sahakar Spice Farm on the Ponda-Belgaum Road (about 35 km from Panaji), Savoi Plantations - Spice of Life (about 35 km from Panaji), Pascoal Spice Village (about 33 km from Panaji), Rustic Plantation in the North-East of Goa at Dongruli village (48 km from Panaji), etc.
MARKETS AND BAZAARS
The popular markets include: Wednesday's weekly flea market at Anjuna, the Mackies Saturday Night Bazaar at Baga beach, the Ingo's Saturday Night Bazaar at Arpora, Friday market in Mapusa, Calangute Market Square, local bazaars at Panaji (Panjim) and Margao. These and many other bazaars make for excellent wandering and picking up gifts and souvenirs.
FOOD
Portuguese influence can be also traced in Goa's cuisine. The staple diet is fish, rice and meat. Seafood such as shelfish, crabs, prawns, tiger prawns, lobster, squid and mussels are commonly eaten. The distinctive feature of Goan cuisine is a wide use of Kokum (berries), coconut, chilli peppers, spices and vinegar. Goan cuisine is divided in to Goan Catholic and Goan Hindu. The specialties of the region include Xacuti (spicy chicken or meat dish cooked in red coconut sauce), Vindaloo (spicy curry dish in a marinade of vinegar and garlic), Chourico (spicy pork sausage), Sorpotel (spicy pork dish), Khatkhate (vegetable stew). Traditional sweetmeats include Bebik (pudding traditionally eaten at Christmas), several types of Halwa such as Dali Kapa (halwa made of red gram), cashew nut halwa, mango halwa, banana halwa, pumpkin halwa, etc. The most popular alcoholic beverage in Goa is Feni (made from the sap of toddy palms or fermentation of the fruit of the cashew tree).
FESTIVALS

One of the most popular festivals in Goa is Goa's Carnival (March). It is a four day festival with parades of elaborate floats and costumed dancers. Other popular festivals include International Film Festival of India (November), Shigmo (February/March), Feast of St Francis Xavier regarded by many Catholics as the patron saint of Goa (December), Christmas, etc.
CULTURE
Traditional Goan art forms are Dekhnni (semi classical Goan dance form), Fugdi (folk dance), Corridinho (a form of Portuguese dance), Mando (a musical form combining Indian and western musical traditions), Dulpod (Goan dance song ) and Fado (Portuguese music). Goa is also known as the origin of Goa Trance (electronic music of the 1980's). Tiatr (musical theatre) and Zagor (performance combining elements of dance, drama and music) are the chief forms of Goa's traditional performance arts.
CLIMATE
The state of Goa experiences tropical monsoon climate. The average temperature in the summers is around 35 °C (95 °F) and winters between 21 °C (70 °F) and 28 °C (82 °F). Monsoon rains are from June to September.
Best time to visit mid October to March.