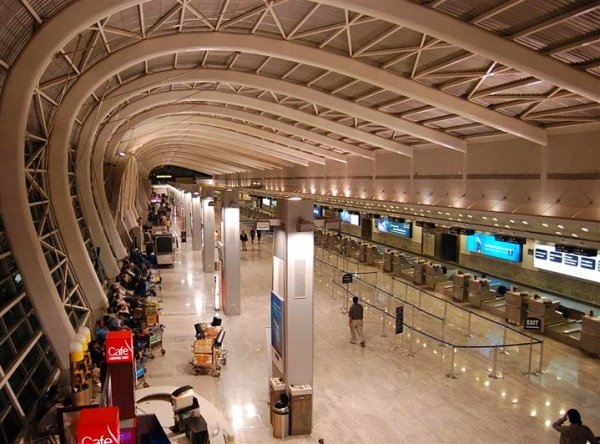 Airports
There are 21 international airports in India: Ahmedabad, Amritsar, Bengaluru, Calicut, Chennai, Coimbatore, Delhi, Goa, Guwahati, Hyderabad, Jaipur, Kolkata, Kochi, Lucknow, Mumbai, Nagpur, Port Blair, Srinagar, Tiruchirapalli, Thiruvananthapuram and Varanasi. However, the newly launched E-Tourist Visa (eTV), allows arrival to India at the 16 International airports including: Ahmedabad, Amritsar, Bengaluru, Chennai, Cochin,
Delhi, Gaya, Goa, Hyderabad, Jaipur, Kolkata, Lucknow, Mumbai, Tiruchirapalli, Trivandrum and Varanasi. For more information and updates please see eTV
All passengers holding a foreign passport need to fill in India Arrival Card and a separate Customs Declaration Form which is given in the plane. In case a passenger does not get a landing card, cards are available in the arrivals immigration area. The completed forms have to be presented to immigration officer. The checked and stamped forms are returned to the traveler together with the passport. It is advised to check the passport to see if it has the stamp and correct date on it before leaving the immigration counter. There are two channels to exit the airport. Green Channel is for the passengers not having any dutiable goods and the Red Channel for passengers with dutiable goods. On March, 2015 Indian Government has issued a new immigration form. Travelers are asked to specifically declare any prohibited articles, gold jewellery (over free allowance), gold bullion and Indian currency exceeding Rs 10,000 in the new form. Prohibited items to bring into India include meat and meat products, dairy products, fish and poultry products, plants, seeds, fruits, flowers, planting materials, satellite phone, etc. For more detailed information on prohibited items please see Central Board of Excise and Customs (CBEC)
Money exchange booths are inside the airport and not outside. Passengers who need to exchange the currency should do it before they exit the airport.

The prepaid-taxi booths are outside and passengers can book a fixed-price taxi for getting in to the city.
There are more than 40 operational domestic airports in India. All airports have standardized security screening procedures. Therefore, travelers can expect to encounter essentially the same procedures at each airport they visit. For security reasons only travelers are allowed inside the terminal building. All passengers must present a ticket along with a photo ID at the entrance of the terminal building to the security staff. The Indian Government has recently passed a resolution aimed at saving paper. Passengers no longer require a paper printout of the itinerary to enter the terminal as long as they present the itinerary document on smart phone, ipad, kindle, etc.
Most airports have pre-screening of baggage. Passengers are required to screen their checked baggage at a stand near the terminal entrance.
Airport check-in counters open two hours prior to the scheduled departure time. In order to avoid delays in flight departures, check-in counters close 45 minutes before departure time and boarding gate closes 25 minutes before departure.
Carry-on baggage is limited to one bag plus one personal item (laptop, purse, small backpack, briefcase or camera case). Due to security restriction carriage of alcohol as hand baggage in Domestic flights is prohibited. Carriage of sharp objects, flammable items, explosive material, lighters, dry cell batteries, pocket knives, metal scissors with pointed tips, tools, fire arms, ammunition and their toy replicas is prohibited in the passenger cabin. There are also some restrictions for carrying sporting goods and martial arts/self defense Items. For more information on prohibited items please see Bureau of Civil Aviation Security
All domestic Indian airlines allow check-in baggage of up to 15 kilograms free of cost. The Cabin baggage allowance varies depending on the airlines, type of aircraft, class of travel (First Class, Première or Economy), flight route, etc.