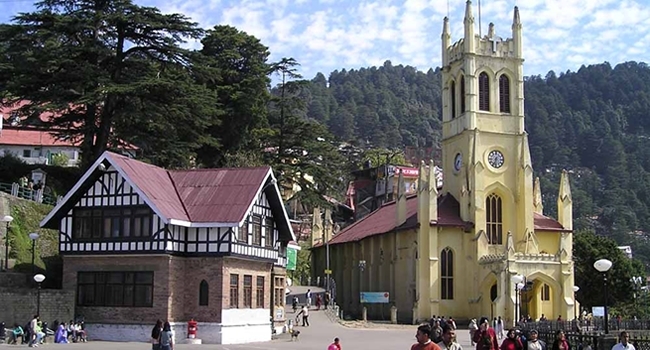 Shimla, The Capital Of Himachal Pradesh
Jewel of Orient, Queen of Hill Stations, Star of Hill Resorts, Town of Dreams, these are the many names of Shimla, capital of Himachal Pradesh.

Located in the interior Himalayas at the altitude of 2213 m (7260 ft), connected by road, rail and air, it was established by the British in the 19th century as the Summer Capital of British India. The British East India Company took control of the territory as per the Sugauli Treaty after the Anglo-Nepalese War (1814–1816). Not long after that the Lieutenant Ross, who was the Assistant Political Agent in the Hill States at the time, set up a wood cottage in Shimla. Three years later, his successor and the Scottish civil servant Charles Pratt Kennedy built the first pucca house in the area, near what is now the Himachal Pradesh Legislative Assembly building. Soon the British officers started spending their entire vacation in Shimla. It became a hill station famous for balls, parties and other festivities.

By the late 1830s, the city became a centre for theatre and art exhibitions, residential schools for students from upper-class families, a number of bungalows were built and a big bazaar was established in the town. The Commander-in-Chief in India, the head of the Indian Army, many Departments of the Government, British soldiers, merchants, and civil servants moved here during summers. Shimla became an oasis of comfort and escape from the summer's heat.

The Kalka-Shimla railway line, constructed in 1906, added to Shimla's accessibility and popularity. In 2008, the 97 kilometres (60 mi) railway route from Kalka to Shimla with more than 806 bridges and 103 tunnels was included in the UNESCO World Heritage List as part of the World Heritage Site Mountain Railways of India. It is a historic route known for its dramatic views of the hills and surrounding villages.

Today Shimla is the capital of Himachal Pradesh state. It is a major cultural, educational and institutional centre of the region. The British had established many architectural masterpieces in Shimla such as Vice Regal Lodge, Gorton Castle, Railway Board Building, Gaiety Theatre, Town Hall, Auckland House, Ellerglie, Barnes Court, Bungalows, Churches and Challet Day School.

The city possesses distinct British heritage including institutional buildings, bungalows, churches, socio-cultural spaces, hotels, cemeteries, coffee houses, clubs, theatres, schools, hospitals, street pattern and street furniture. The buildings are styled in the Tudorbethan and Neo-Gothic architecture. The facades of buildings, sloping roofs, dormers, windows, doors, entrances and chimneys of numerous types replicated from European buildings leave you an impression that you are walking down the streets of European cities.