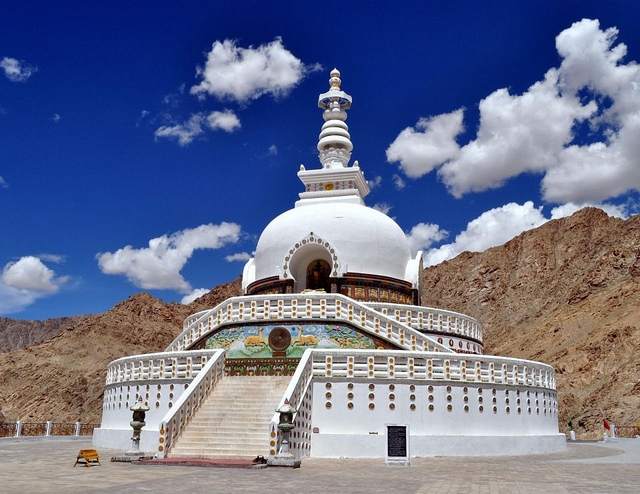 Ladakh, The Little Tibet of India
Ladakh, the former Buddhist kingdom, popularly called the Little Tibet, is voted amongst the most popular summer destinations in India. Ladakh's royal family traces its dynasty back to 975AD.
The region is renowned for its natural beauty, myriad river valleys, picturesque villages with mud-brick houses, whitewashed Stupas, Buddhist Monasteries and unique culture greatly influenced by Tibetan culture. It is one of the most popular destinations for those seeking spiritual nourishment and running away from the noisy city life.
Ladah is a high altitude desert set in the Himalayas Mountains at an average of over 3,000 m (9,800 ft) above sea level. It is situated 474 km (295 mi) from Srinagar and over a thousand kilometers (622 mi) from the country's capital Delhi. The region is a part of the Indian state of Jammu and Kashmir with Leh being the largest city. One can get to Ladah either by flying to Leh or by taking Manali-Leh or Srinagar – Leh route. The routes are spectacular and help to acclimatise to the altitude but it might take 24 to 48 hours to reach destination by road.
Due to its high altitude the region has a short tourist season, lasting from July to early September. Winters in Ladakh are harsh and cold with temperature dropping below -20° C (-4°F) and snow covering all the roads. Summer is a pleasant time to travel in this part of the country. Days are pretty warm though a sweater would be handful for the evenings and early mornings to avoid the fresh mountain's chill.
Ladakh region is a paradise for adventure lover. The mountain ranges and high mountain passes, with some of the most picturesque and challenging treks in India, make it a popular destination for trekkers and mountain climbers. The most popular treks in the region are from Spituk to the Markha Valley and Lamayuru Monastery to Chilling Village. The treks run alongside the Zanskar River offering breathtaking views of snow clad peaks and turquoise blue lakes. Ladakh is rich in wildlife and one might come across the snow leopard, Tibetan wild ass, yaks or Black-necked cranes.

The other popular activity in the area is river rafting. The best stretch for professionally guided runs is between Spituk and Saspol. Rafting in the Indus River became a popular attraction in recent years.
For spiritual seekers Ladakh has to offer more than 20 Buddhist monasteries spread across the region. Situated on the isolated hillocks, surrounded by spectacular mountain scenery or hidden in gorges they are rich in Buddhist artifacts', relics, holy scripts, intricate wood carvings, statues and frescoes. Many monasteries celebrate their annual festivals with colourful mask dances in the Gompa (Tibetan-style Buddhist monastery) courtyards. Lamas (spiritual teachers), robed in colourful garments and wearing often startlingly frightful mask, perform mimes representing purification of the individuals soul or the triumph of good over evil. The best way to absorb the essence of Ladakhi culture, tradition and importance of religion is by visiting monastery for morning prayers, witnessing the spinning prayer wheels, the thudding drums, fluttering flags, chants and incense. Most of the monasteries remain open throughout the day. Among the most beautiful and popular monasteries are Phyang, Hemis, Likir, Alchi and Thiksey. The Hemis Monastery is considered to be the biggest and richest monastery in Ladakh famous for its summer festival, which falls in late June or the first half of July. Other monasteries which have summer festivals are: Lamayuru (early July), Phyang (Late July or early August), Tak-thok (about ten days after Phyang) and Karsha in Zanskar (1 day after Phyang).
Besides monasteries the other tourist sites in Ladakh include Leh Palace, Stok Palace Museum, Sculpture at Drass, Rock Cut Sculpture at Mulbekh, Mosque and Moravian Church at Leh, Old Castle Tsemo Hill, Stupa at T- Suru, Shey Palace, etc.
While visiting Ladakh one should try the local food such as thukpa (thick broth with vegetables or meat), momos (steamed dumplings stuffed with vegetables or meat), Ladakhi bread khambir, served with local apricot jam and butter tea made of green tea, butter and salt, commonly called gurgur cha. And don't forget to visit local markets for Ladakhi hats, pashmina shawls, antiques and heavy turquoise jewellery.