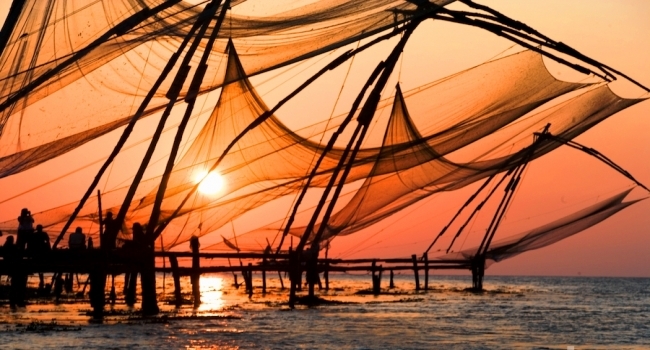 Kochi, The Queen Of The Arabian Sea
Kochi, formerly and still commonly known as Cochin, is an enchanting city of Golden beaches with big sand grains, coconut palm corridors, backwaters, and historical monuments. Known as the Gateway to Kerala, Kochi is set among picturesque lagoons and backwaters, that, somewhere within the city's aqueous terrain, merges with the Indian Ocean. The city is a cluster of islands and towns including Ernakulam, Mattancheri, Fort Cochin, Willingdon Island, Vypin Island, and Gundu Island,which are linked by road bridges and ferries. Kochi is one of the west coast's largest and oldest ports. The city served as a centre of Indian spice trade for many centuries. This ancient city exported spices, coffee, and coir, the fibre made from coconut husks, and imported culture and religion from Europe, China, and the Middle East. The Arabs, British, Dutch, Chinese, and Portuguese have all left their mark there. The Jewish community in Kochi is said to be the oldest in India, claiming to date from the 4th century. Today you won't find many Jews left in the Jewish district as almost all of its several thousand members had emigrated to Israel by the late 20th century. However, the Chinese Fishing Nets, Kochi's most recognizable sight, that have been there since the 14th century, are remarkably still in use today.

Kochi might no longer be an international trading post of exotic goods and traders from faraway lands, but the air still remains thick with history and the smells of cardamom, pepper and ginger. The streets behind the docks of the historic neighbourhoods of Fort Cochin and Mattancherry are lined with old merchant houses, warehouses and open courtyards heaped with betel nuts, ginger, peppercorns, and tea. As you walk or drive into Fort Cochin, the clock stops ticking, and many reverse oscillations take you back, through various periods of colonial invasions. The entire area, in fact, is dotted with houses, forts and even cafs built by the British, Dutch and Portuguese. The European-era bungalows, with their terracotta roof tiles, and butter-yellow or mint-green fades, are still there, as are the waterfront spice warehouses, Paradesi Synagogue, the Dutch heritage Mattancherry Palace and India's oldest European church, St Francis. Built by the Portuguese in 1510 St. Francis Church is reputedly the first European church on Indian soil. It was for a time the burial place of Vasco da Gama before his remains were taken to Portugal. Fort Kochi offers sights and insights set in what seems like a European backdrop.

Kochi is also renowned for its cuisine, featuring delicious seafood and coconut flavours. Being a coastal and backwaters city, fresh seafood and fish is the local speciality. Prawns, squids and shrimps are easily available and cooked in many styles. The most famous of Kochi's speciality dishes is Meen Molagitta Curry (smoked freshwater fish with chilly and coconut milk). The English popularized smoked fish with steamed bread and mashed potatoes. One of Kochi's traditional vegetarian specialties is Kurukku Kalan (a thick yogurt curry with toasted banana and hot rice). Packed Kurukku Kalan as well as Palada (a sweet dessert with rice flakes and milk) are sold in many supermarkets and food stalls.

Among many festivals celebrated throughout the year the Cochin Carnival (December 20-January 2) is the biggest carnival festival in the city. It started in 1582 as part of Portuguese New Year's celebrations. A wonderful array of colourful rallies, fancy dress parades, regular competitions, bike races, beach games, sports, theme festivals, concerts and dances, fireworks and night beach parties, make it one of the largest celebrations in Kerala. Kochi is an escapist's delight, and a motionless place where time seems to lose pace.

If you want a laid back, relaxing and peaceful place where you can see the history unfolding in front of your eyes, Kochi is the place for you.