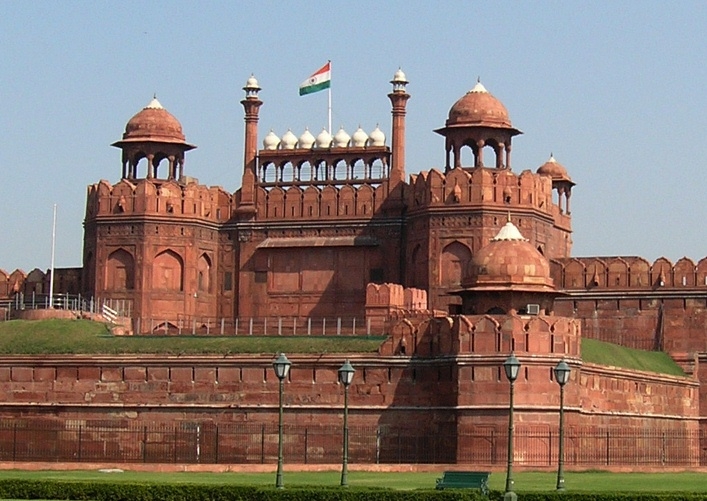 North-Central India
This region includes the states of Punjab, Haryana, Bihar, Madhya Pradesh, Uttar Pradesh, Union Territory of New Delhi and Union Territory of Chandigarh. The area is also known as the Plains. It consists of the largest and politically significant states of India and the country's capital New Delhi.
The region is home to thirteen UNESCO World Heritage sites: the Taj Mahal in Agra, Agra Fort, Fatehpur Sikri, Mahabodhi Temple Complex at Bodh Gaya, Khajuraho Group of Monuments, Bhimbetka rock shelters, Buddhist Monuments at Sanchi, Red Fort in Delhi, Qutb Minar and its Monuments in Delhi, Humayun's Tomb in Delhi, Nanda Devi and Valley of Flowers National Park, Great Himalayan National Park and the Kalka-Shimla Railway.
The state of Bihar is known as the birth place of Buddhism in India. It was home to ancient universities like Nalanda and Vikramaśīla Universities. The region is known for Mithila painting, caning and weaving, Manjusha art (temple-shaped boxes made of bamboo), etc. Bihar has a very old tradition of folk singing and dancing.
Bihari cuisine is predominantly vegetarian. Some dishes which Bihar is famous for include Sattu Parantha (paranthas stuffed with fried chickpea flour), Chokha (spicy mashed potatoes and/or brinjal), fish curry, Bihari kebab, and Posta-dana ka Halwa (sweet poppy seed pudding).
Haryana state was home to some prominent sites of the Indus Valley and Vedic Civilizations. Several decisive battles were fought in this area, which shaped much of the Indian history.
Haryana has a rich cultural heritage that goes back to the Vedic times. The popular arts are Saangs – folk dance drama, ballads and songs. Food and cuisines of Haryana are almost same as the ones in Punjab. Popular Haryanavi dishes include Makke Di Roti (grounded dry corn) and Sarso Da Saag, Lassi (sweet yogurt), Rajma (a popular vegetarian dish consisting of red kidney beans in a thick gravy), Cholay-bhature (combination of spicy chick peas and fried bread made of flour), etc.
Madhya Pradesh is also known as the Heart of India due to its geographical location. The state is home to eleven National Parks and a number of natural preserves. The state is known for Khajuraho Erotic Temples, the hilltop fort of Gwalior, the medieval charm of Orchha, the Buddhist Stupas at Sanchi, etc. The population of Madhya Pradesh consists of numerous ethnic groups and tribes like Bhill, Gonds, Chamar, Kalal, Rajpurohit, Khols, etc. The region is noted for its classical, folk music and dances like Badhai, Rai, Saira, Jawara, Sher, etc.
The cuisine in Madhya Pradesh varies from region to region. Gwalior and Indore abounds with milk and milk-based preparations. Bhopal is known for meat and fish dishes such as Rogan Josh (aromatic lamb dish), Korma (meat and/or vegetables braised in a spiced sauce made with yogurt, cream, nut or seed paste), Keema (minced mutton curry with peas or potatoes), Biryani (a mixed rice dish made with spices, meat or vegetables), Pilaf (rice is cooked in a seasoned broth) and Kebabs such as Shami and Seekh. A popular dish is Bafla (wheat cakes) dunked in rich ghee and eaten with Daal (a pungent lentil broth).
Punjab, the Land of Five Rivers, is one of India's most prosperous states. It is bounded on the west by Pakistan. It is home to Bhangra music, the Sikh religion, the Golden Temple, and Wagah border. Punjab culture is famous through its music, dance forms, cuisine and wedding traditions. Punjabi film industry is widely popular abroad. Punjabi cuisine has a diverse range of dishes. Tandoori food, especially the non-vegetarian dishes, is a Punjabi specialty. Other traditional dishes are Sarson Da Saag (vegetable dish made from mustard leaves and spices), Tandoori Chicken (roasted chicken prepared with yogurt and spices), Shami Kebab, Makki Di Roti (bread made from corn flour), etc.
Uttar Pradesh is known for its vibrant culture, festivals, monuments, ancient places of worship, and Viharas (Buddhist monastery). The region's folk heritage includes songs called Rasiya which celebrate the divine love of Radha and Krishna. It is also known for the classical dance form Kathak. The state's cuisine is known for Roti (flat bread), Chawali (rice), Dal (pulse, lentil, pea or various types of beans), Sabji (curry), Raita (condiment made with yogurt) and Papad (flat bread).