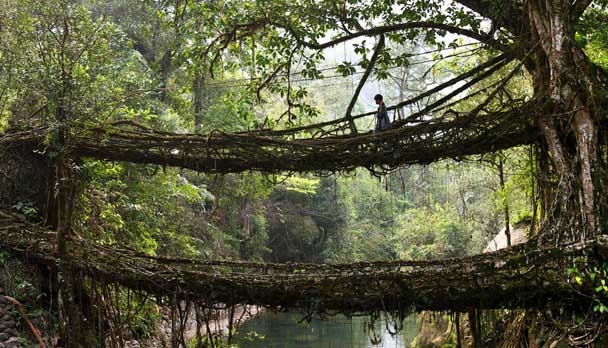 North-Eastern India
This region contains the states of Assam, Arunachal Pradesh, Manipur, Meghalaya, Mizoram, Nagaland and Tripura - collectively called the Seven Sisters.

It is the eastern-most region of India, surrounded by China (South Tibet) in the north, Myanmar in the east, Bangladesh in the southwest, and Bhutan in the northwest. It is connected to the rest of the country via a narrow 20 km (13 mi) Siliguri corridor.

North-Eastern India is known for its picturesque hills and valleys, a number of National Parks and Wild Life Sanctuaries, a large variety of orchids, tea gardens, colourful festivals, glorious heritage of arts and crafts and rich tribal culture.
There are two UNESCO World Heritage sites in the region: the Kaziranga National Park and Manas National Park.
The North-Eastern region can be devided into the Eastern Himalayas, Northeast Hills (Patkai-Naga Hills and Lushai Hills) and the Brahmaputra and Barak Valley Plains.

Northeast India has over 220 ethnic groups and an equal number of dialects. Assamese, Manipuri, Nepali are the major and dominant languages in the region.

Hornbill festival, showcasing the heritage of the 16 tribes, is the largest festival in the region. Other popular festivals include Nongkrem Dance Festival in Meghalaya, Shillong Autumn Festival, Torgya Monastery Festival in Arunchal Pradesh, Kharchi Puja in Tripura, Chapchar Kut in Mizoram, etc.

The North-Eastern India has many forms of folk dances: Bihu (Assam), Hajgiri (Tripura), Nongkrem (Meghalaya), and Dhol-Cholom (Manipur) being the major ones. Songs and dances based on the stories of Buddha are popular in the state of Arunachal Pradesh. Manipuri is a popular classical dance form of this region.

The cuisine of the North-East India is varied. For most parts it is non-vegetarian with rice and fish being the major staple. The state of Assam is known for a wide range of delicacies, including Til Pitha (stuffed rice-flour pastries), Narial Pitha (coconut stuffed rice-flour pastries), and Larus (sweet balls of coconut and til). Manipur cuisine is known for dishes like Ngari (fermented fish), Eromba (fish speciality) and Kabok (a sweet made of rice and molasses).

The architecture of North-East India is varied, ranging from tribal architecture to heritage temples. The tribal houses are essentially made from organic renewable resources such as bamboo, mud, grass, straw, cane leaves, cane etc. Major temples: Navagraha Temple at Guwahati, Negriting Temple at Shibsagar, Sukreswara Temple at Guwahati, Tamresvari Temple at Sadiya, Umananda Temple at Guwahati, Vasishtashrama Temple at Guwahati, Hatimura Temple at Silghat, etc.

The North East has a vibrant craft tradition and every tribe excels in a rich variety of arts and crafts. These include carpet making, masks, painted wood vessels, bamboo and cane crafts, weaving, woodcarvings, bell metal works, jewellery, handmade pottery, fibre craft, dolls and toys of straw and clay, etc.

Northeast India has a predominantly humid, sub-tropical climate with hot, humid summers, severe monsoons and mild winters.