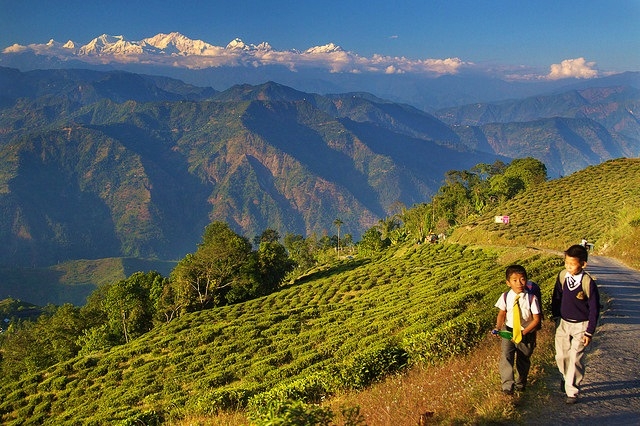 Eastern India
This region contains of the states of Chhattisgarh, Jharkhand, Odisha, West Bengal and Sikkim.
Eastern India is more or less rural and is less economically developed as compared to the rest of the country. But the region is culturally rich - stretching from Nepal and Sikkim to the Himalayas to the coast of the Bay of Bengal.
Kolkata is the largest city of this region. There are several important pilgrimage places in the region including one of the four holy city for Hindus - Puri, the Sun Temple in Konark, Bhubaneswar, the Vaidyanath Temple in Deoghar, etc.

The architecture in Eastern India is known for the Buddhist monasteries of Sikkim, ancient temples of Chhattisgarh, the temples belonging to the Middle Ages in Orissa and terracotta temples of the recent past in West Bengal. Odisha and West Bengal have some fine examples of colonial heritage from the British Raj.

There are three UNESCO World Heritage sites in the region: the Darjeeling Himalayan Railway, Sun Temple in Konark and Sundarbans National Park in West Bengal.

The majority of the population of East India is Hindu with Muslim, Christian, Buddhist and Sikh minorities. Bengali is the most widely spoken language of this region.
East Indian cuisine is famous for Bengali cuisine with an emphasis on fish and lentils served with rice as a staple diet. Popular dishes include rice with Macher Jhol (Fish's gravy), green jackfruit and potato curry, etc. The fish is prepared in innumerable ways – steamed or braised, or stewed with greens or other vegetables and with sauces that are mustard-based or thickened with poppy seeds.
Odisha cuisine is known for dairy products such as yoghurt, buttermilk, butter, ghee (clarified butter), and lassi (yogurt-based drink). Traditional sweets include: Rasgulla (a syrupy dessert), Chenapoda (a cheese dessert), Rasmalai (paneer balls soaked in sugary white cream), Chenagaja (a sweet made from curd-cheese and syrup), Khaja (a baklava-like dessert), Chandrakanti (a deep-fried dessert), etc.
Jharkhandis prepare different dishes of rice and Rotis (flat bread). Dhuska is a famous dish of Jharkhand cooked with mashed rice and pulses and served with either Aaloo Dum (potato curry) or mutton curry. Kera-dudhauri is a famous dish prepared with milk, rice, ghee and gur.
The Eastern Indian handicrafts include silver filigree work, Patta and Patta Chitra painting, Tnat woven textile, Baluchari silk, Sambalpuri sarees, Kotki prints, paper pulp and wooden masks, Bastar wooden art, Dhokra metal casting, Lacquered toys, etc.

The Eastern Indian dances are known for Odissi, Mahari, Chau and Ghumura dance forms. Odissi is one of the eight classical dance forms of India, originating from the state of Odisha. It is the oldest surviving dance form of India.

The Eastern Indian music is known for Rabindra Sangeet or Tagore Songs that were written and composed by Rabindranath Tagore. Tagore is an important figure in Indian music. He wrote 2230 songs including the national anthem of India. Panchali, a form of narrative folk songs, is another popular music form in Eastern India.
The region lies in the humid-subtropical zone. It has hot summers from March to June, monsoon season from July to October and mild winters from November to February.