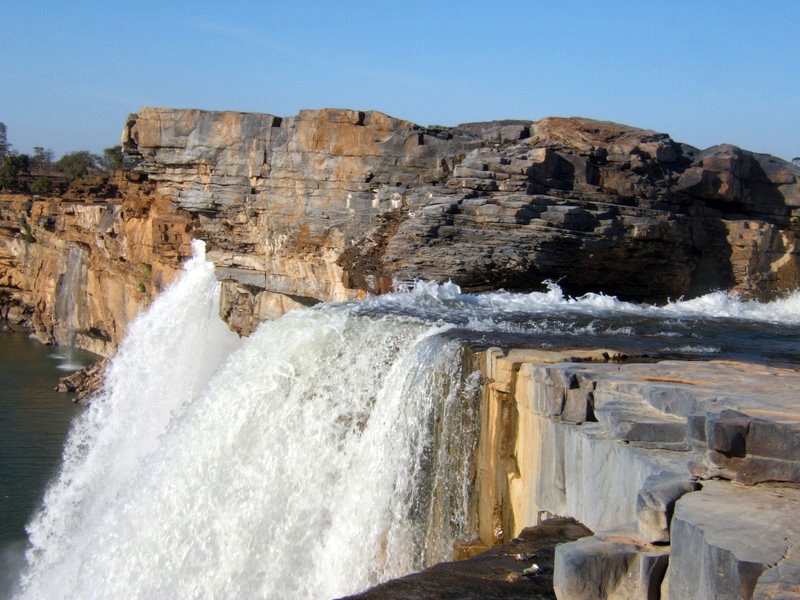 Chhattisgarh
Chhattisgarh is a state in Eastern India. It is the country's most densely forested state, blessed with natural beauty – waterfalls and unspoilt nature reserves.
The state is full of ancient monuments, rare wildlife, exquisitely carved temples, Buddhist sites, palaces, water falls, caves, rock paintings and hill plateaus.
Major Tourist sites in the state include Bastar Palace in Jagdalpur, Kutumsar and Kailash Caves near Jagdalpur, Chitrakot Falls, known as Indian Niagara Falls, Tiratharh Falls, Indravati National Park, Bhoramdeo Mandawa Mahal Temple, known for its carved erotic sculptures, etc.
The region is home to 42 different tribes, famous for its paintings, fin sculptures and colourful haats (markets) that take place across the region, particularly around Jagdalpur.

The northern and southern parts of the state are hilly, while the central part is a fertile plain. Chhattisgarh has extensive rice cultivation and is known as the rice bowl of Eastern India. The region has rich tradition of food culture with most of the traditional and tribal foods being made of rice and rice flour, curd and a variety of green leafy vegetables. Chhatisgarh is also famous for Red ants that are known as chapura and are used for medicine and also play an important role in food. The Bastar tribes often eat chapuras live, served on a leaf with white ant eggs. Alternatively, villagers grind them into a paste and mix them with chilli to make chutney.

Chhattisgarh is known for Kosa silk and lost wax art. The region has rich tribal culture. Traditional crafts include painting, woodcarving, bell metal craft, bamboo ware and tribal jewellery. The people of Chhattisgarh discovered a method of smelting iron some 35,000 years ago. Similar techniques are used today for creating sculptures of spindly, pointillist animal and human figures, which are often also made into functional items such as lamp stands and coat racks.

Chhattisgarh is primarily a rural state with only 20% of population residing in urban areas. Majority of people are Hindus (98%), the rest are Muslim and Christian.

The climate of Chhattisgarh is tropical. The temperature varies between 30 and 45 °C (86 and 113 °F) in summer and between 0 and 25 °C (32 and 77 °F) during winter. The monsoon season is from late June to October.