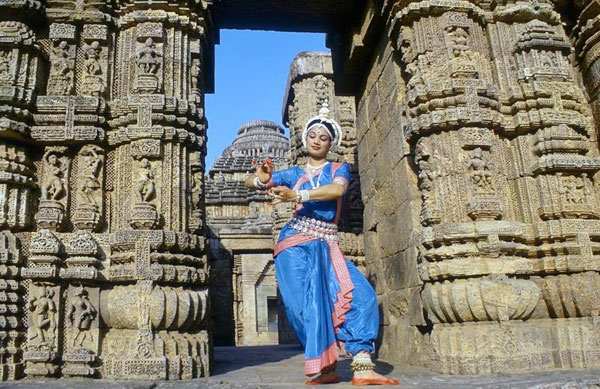 Odisha
Odisha formerly known as Orissa is a state in Eastern India. The region is also known as Utkala and is mentioned in India's national anthem, Jana Gana Mana.
Odisha has 485 km (302 mi) of coastline stretched across Bay of Bengal. The capital city of the state is Bhubaneswar known for the exquisite temples that dot its landscape.
Odisha is also well known for its Buddhist and Jain pilgrimage destinations. Major tourist sites in the state include: The Sun Temple situated at Konark, Gundicha Ghar Temple at Puri, Loknath Temple at Puri, Chilka, Bhitarakanika, Udayagiri Caves, Khandigiri Caves and Mahendragiri, Jagannath Temple at Puri, etc.

Odisha's culture is best known for the oldest surviving dance form in India - Odissi having a tradition of 2,000 years. Odisha is also famed for its lacelike silver-filigree ornaments known as tarakasi. The state also preserves the age-old art of patachitra painting where cotton or tassar (silk cloth) is covered with a mixture of gum and chalk with images of deities and scenes from Hindu legends. The region is also acknowledged for bright appliqué and ikat (a SoutheastAsian technique where thread is tie-dyed before weaving).

Odisha has culinary tradition spanning centuries. It is well known for using mustard which is used ubiquitously in seed, paste and oil forms, giving many Odisha dishes a distinct flavour. Odisha's thali (plate) consists of bhata (rice), kaharu phula bhaja (fried pumpkin flower), dalma (dahl cooked with vegetables, mustard and spices), besara (vegetables or river fish with mustard-paste gravy), saga bhaja (leafy greens lightly fried with garlic paste) and a five-seed mixture called pancha phutan. Odisha's cuisine is well known for its desserts. Rasgulla originated from Odisha and became famous throughout the world. Chhenapoda is another major Odisha sweet.
Major festivals of the region include Adivasi Mela, featuring art, dance and handicrafts of Odisha's tribal groups, Konark Festival featuring traditional music and dance, International Sand Art Festival (Chandrabhaga Beach, Konark), Mukteswar Dance Festival, Rajarani Music Festival (Bhubaneswar), etc.
The majority (over 94%) of people in the state of Odisha are Hindu.
The flora and fauna of Odisha is extremely diverse and gives the state a reputation for abundance of natural beauty and wildlife. Odisha's evergreen and moist forests are suitable habitats for wild orchids. Around 130 species have been reported from the state. The state is also an important habitat for the endangered olive ridley turtles and Irrawaddy dolphins. National Parks include: Simlipal National Park, Chandaka Elephant Sanctuary, Bhitarkanika Wildlife Sanctuary and Chilika Lake.

There are three well-defined seasons in Odisha: winter (January to February), pre-monsoon season (March to May), south-west monsoon season (June to September) and north east monsoon season (October-December).