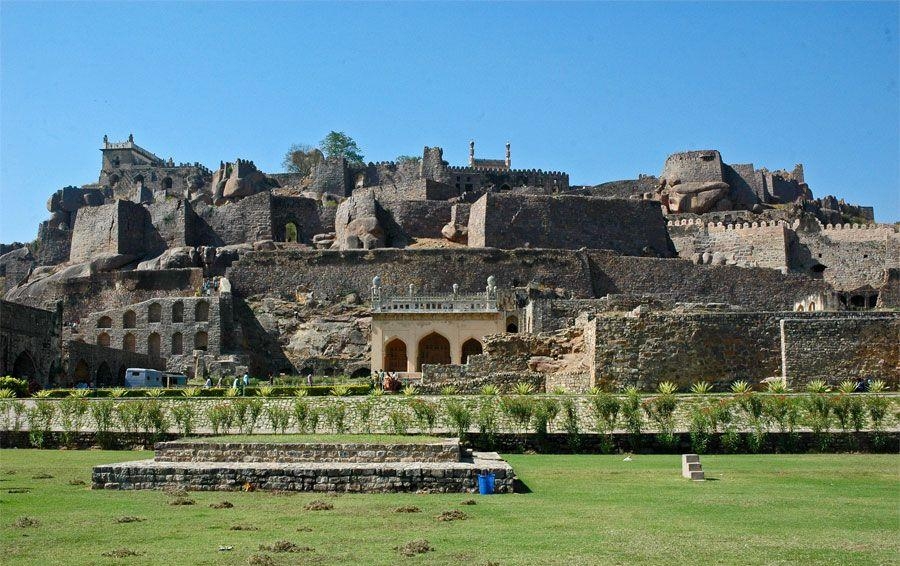 Telangana
Telangana is a state in Southern India. It is a new state separated from Andha Pradesh on 2 June 2014. The state shares a joint capital Hyderabad.
Telangana is rich in historical places, monuments, heritage landmarks, magnificent forts and palaces, Chalukyan style temples, ancient mosques, waterfalls, dams and forests. Majority of tourist attractions are located in and around Hyderabad. The city is known not only for its historical masterpieces but also culinary traditions. The major tourist sites include: Charminar, Golconda Fort, Qutb Shahi Tombs, Chowmahalla Palace, Falaknuma Palace, Birla Mandir and Bhongir Fort, Warangal Fort, etc.
Other heritage landmarks and religious sites are located at Khammam, Warangal, Adilabad, Mahabubnagar, Medak and Nalgonda town.
The state is also renowned for religious tourism. Some popular temples in the region include the Thousand Pillar Temple (Warangal), Yadagirigutta Temple (Nalgonda), Bhadrachalam Temple (Bhadrachalam), Gnana Saraswati Temple (Adilabad), etc.
Telangana state is home to the tallest Dam in the world Nagarjunasagar, located in Nalgonda district. Kuntala Waterfall (Adilabad district) is considered to be the biggest in the state.
There are three National Parks and the state and the number of Wildlife Sanctuaries and Tiger Reserves.
Telangana has a rich culture which is a synthesis of Persian traditions and south Indian customs. The kingdoms of Moghuls, Qutub Shahis and Nizams left a big mark in architecture, culture and region's cuisine.
The state is renowned for its amazing bronze casting and unique art of silver engraved on metal – Bidri that comes in the forms of flower vases, jewellery boxes and other articles. Banjara Needle Crafts are known for exquisite embroidery and mirror work on fabrics. The tribal regions of Telangana are famous for Dokra also known as bell metal craft. Nirmal region is world famous for oil paintings depicting themes from the epics such as Ramayana and Mahabharata.
The State has a rich tradition in classical music, folk arts, shadow puppet show, Gusadi Dance, etc.
Telangan hosts a unique festival of flowers called Bathukamma. It is a Hindu festival worshiping Goddess Mahakali and celebrating the glory of womanhood. Bathukamma is a month long festival (September-October). Other popular festivals of the state include: Bonalu – a religious festival considered as a form of thanksgiving to the Goddess Yellamma after the fulfilment of vows (July/August); Muharram - a religious festival marked by processions; Vijayadashami also known as Dussehra or Navaratri is an important Hindu festival celebrated state wide.
Telangana cuisine is a blend of Telugu and Nizami or Hyderabad cuisine. Staple food is rice and both vegetarian and non-vegetarian foods are popular. Specialties include biryani (dish made with basmati rice, spices, goat or chicken), baghara (eggplant curry), dosa (a fermented crepe made from rice batter and black lentils), vada (doughnuts made from black gram), haleem (a stew composed of meat, lentils and pounded wheat). Hyderabadi haleem is patented and can't be served unless it meets strict quality standards.
Telugu is an official language of the stat and the majority of population follow Hinduism (84%).
The region experiences hot and dry climate. The average temperature in the summers (March-May) is 42 °C (108 °F) and 23 °C (73 °F) in the winters (November-February). The monsoon rains are from June until September.