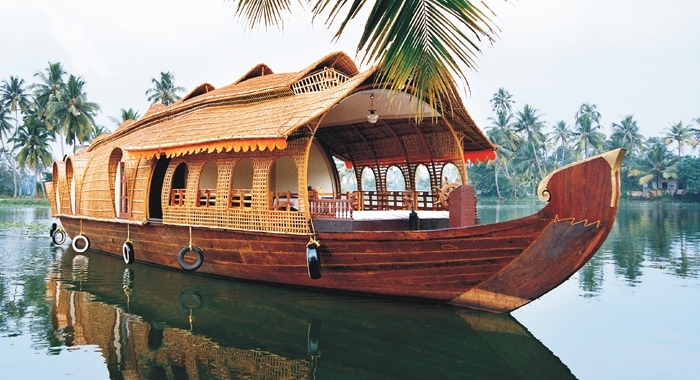 Kerala
Kerala is the state in the Southern India. The capital city is Thiruvananthapuram. The state is situated on the Malabar Coast and is bordered by the Lakshadweep Sea to the west.
The state's coastline extends for 595 kilometres (370 mi). Kerala's beaches (Kovalem, Verkala, Bekal), backwaters and houseboats (Alleppey, Kottayam, Kollam), mountain ranges and hill stations (Munnar), palm groves, wildlife sanctuaries (Wayanad, Periyar Wildlife Sanctuary), tea and coffee plantations (Munnar), Ecotourism, Ayurvedic tourism are the major attractions in the state.
Houseboat and canoe rides in backwaters, mountaineering, trekking, bird-watching in the Western Ghats, bamboo raft tours and jeep safaris at Wildlife Sanctuaries are among popular activities in Kerala.
The region has been one of the major spice trading centres for more than 3000 years. Spices, coconut, tea, coffee, cashew are all cultivated in Kerala. The state is also one of the leading fish producers in India.

Kerala is best known for its backwaters and kettuvallam (traditional 18 m (60 ft) length rice barge converted in to the houseboat). An extensive 900 km (560 mi) network of interlocking rivers, lakes, lagoons and brackish canals lined with tropical flora, coconut palms are centred around Allepey, Kumarakom and Punnamada.
Kerala's eco-tourism destinations include 12 wildlife sanctuaries and two national parks. Among the most popular one are Periyar Tiger Reserve, Parambikulam and Wayanad Wildlife Sanctuaries. Indian leopard, Nilgiri tahr, grizzled giant squirrel, crocodile, the great hornbill, darter, Kerala laughingthrush are common habitants in Kerala's forests and wetlands. Kerala is home to the largest domesticated population of elephant in India. It has been an integral part of the state popularly called the God's Own Country.
Kerala's culture consists of distinctive lifestyle, art, architecture, literature, performing arts, sports, celebrations and festivals. There are around 10,000 festivals celebrated in the state. Some of the popular festivals include: Ernakulathappan Utsavam – an 8 day festival with decorated elephant parade (January/February); Thirunakkara Utsavam – a 10 day festival with all-night Kathakali dancing (March); Pooram Festival - a 10 day festival with a procession of 40 ornamented elephants (April); Thrissur Pooram - elephant procession to end all elephant processions; Nehru Trophy Snake Boat Race – the annual boat race (August); Onam - Kerala's biggest cultural celebration (August/September).
Kalarippayat is an ancient tradition of martial training and discipline, regarded as the mother of all martial arts in the world. It is still taught throughout Kerala. Kathakali is a distinctive performance of Kerala. It is a blend of religious play and dance with colorful costume, face paint and ornamental headpieces. Theyyam is Kerala's most popular ritualistic art form and a trance-induced ritual associated with the temple culture of the region. There are around 450 different theyyams, performed in kavus (sacred groves) throughout northern Kerala. Carnatic music dominates traditional music while Malayalam films have carved a niche for themselves in the Indian film industry.
Traditional handicrafts of Kerala include miniature paintings on leaf skeletons, coconut shell crafts, horn carvings, rosewood and sandalwood carvings, brass work, kathakali masks, saris, soft printed cotton Calico, etc.
Rice is a dominant staple of Kerala's cuisine. Kerala's dishes are made with the rich base of coconut and myriad spices and bananas being an important ingredient. of Kerala's specialties include: Idli (a steamed savoury cake), Rice Puttu (steamed rice cake), Idiyappam (steamed rice flour noodles), Kallappams (traditional rice flour pancakes), Vada (a doughnut made from pulse), Payasam and Palppayasam (sweet meal made with milk, sugar, ghee, rice and dry fruits). Sadhya is a vegetarian meal that is served on a banana leaf. Seafood specialties include karimeen (fresh water fish), prawn and shrimp. Some popular drinks include fresh ground Keralan coffee and Toddy (the sap from the palm).
Hinduism is practised by 56% of the population, followed by Islam and Christianity. Malayalam is the most widely spoken and official language of the state.
Kerala experiences the humid maritime tropic climate with heavy rains (monsoon) between June and August and September to December. There are around 120–140 rainy days per year. The mean daily temperature ranges from 20 °C (68 °F) to 37 °C (98,6 °F).