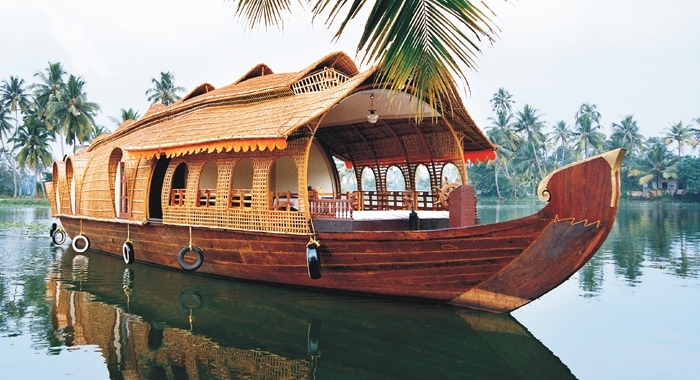 Kerala
Kerala is the state in the Southern India. The capital city is Thiruvananthapuram, though the gateway to Kerala is considered to be the port city of Kochi. The state is situated on the Malabar Coast and is bordered by the Lakshadweep Sea to the west.
Kerala is best known for its backwaters, houseboats, tea and spice plantations, ayurvedic treatments, kathakali art performances, etc.
An extensive 900 km (560 mi) network of interlocking rivers, lakes, lagoons and brackish canals lined with tropical flora, coconut palms are centred around Allepey, Kumarakom and Punnamada.
The region has also been one of the major spice trading centres for more than 3000 years. Spices, coconut, tea, coffee, cashew are all cultivated in Kerala. The best place to explore the tea and spice plantations is the hill station of Munnar.
MAJOR TOURIST SITES
The major destinations on the state include: Kochi (former Cochin), Allepey, Kottayam, Kovalem, Verkala, Bekal, Munnar, Thiruvananthapuram, etc.
NATIONAL PARKS
Kerala's eco-tourism destinations include 12 wildlife sanctuaries and two national parks. Among the most popular one are Periyar Tiger Reserve, Parambikulam and Wayanad Wildlife Sanctuaries. Kerala is home to the largest domesticated population of elephant in India. It has been an integral part of the state popularly called the God's Own Country.
FESTIVALS
Kerala's culture consists of distinctive lifestyle, art, architecture, literature, performing arts, sports, celebrations and festivals. Onece in Kerala is a must to explore Kalarippayat (martial art), Kathakali (play and dance) or Theyyam (ritualistic art form) performances.
There are around 10,000 festivals celebrated in the state. Some of the popular festivals include: Ernakulathappan Utsavam – an 8 day festival with decorated elephant parade (January/February); Thirunakkara Utsavam – a 10 day festival with all-night Kathakali dancing (March); Pooram Festival - a 10 day festival with a procession of 40 ornamented elephants (April); Thrissur Pooram - elephant procession to end all elephant processions; Nehru Trophy Snake Boat Race – the annual boat race (August); Onam - Kerala's biggest cultural celebration (August/September).
HANDICRAFTS
Traditional handicrafts of Kerala include miniature paintings on leaf skeletons, coconut shell crafts, horn carvings, rosewood and sandalwood carvings, brass work, kathakali masks, saris, soft printed cotton Calico, etc.
FOOD
Rice is a dominant staple of Kerala's cuisine. Kerala's dishes are made with the rich base of coconut and myriad spices and bananas being an important ingredient. Some of Kerala's specialties include: idli (a steamed savoury cake), rice puttu (steamed rice cake), idiyappam (steamed rice flour noodles), kallappams (traditional rice flour pancakes), vada (a doughnut made from pulse), payasam and palppayasam (sweet meal made with milk, sugar, ghee, rice and dry fruits). Sadhya is a vegetarian meal that is served on a banana leaf. Seafood specialties include karimeen (fresh water fish), prawn and shrimp. Some popular drinks include fresh ground Keralan coffee and toddy (the sap from the palm).
CLIMATE
Kerala experiences the humid maritime tropic climate with heavy rains (monsoon) between June and August and September to December. There are around 120–140 rainy days per year. The mean daily temperature ranges from 20 °C (68 °F) to 37 °C (98,6 °F).
Best time to visit is between mid-November and April.