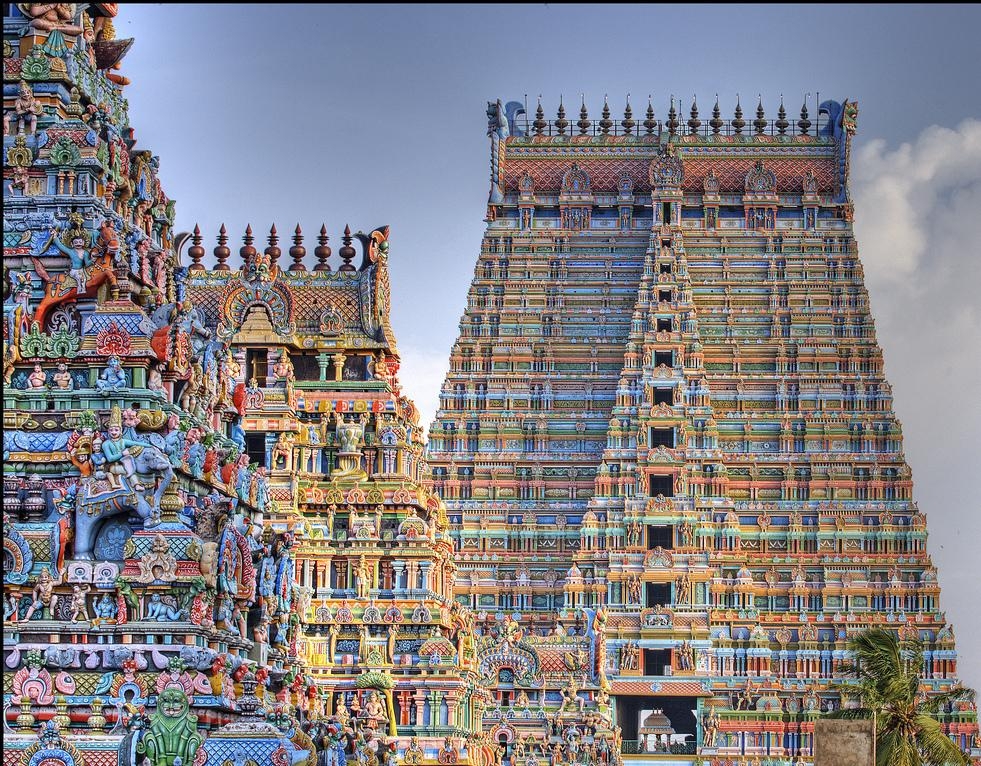 Tamil Nadu
Tamil Nadu is a state in Southern India. The state borders the Bay of Bengal to the east with three oceans meeting at Kanyakumari. Tamil Nadu has the coastline of about 910 km (570 mi) encompassing the union territory of Puducherry. The capital of the state is Chennai, the fourth largest city of India.
Tamil Nadu is known for Dravidian architecture, old Hindu temples, colorful festivals, UNESCO World Heritage sites, hill stations, waterfalls, national parks, south Indian cuisine, 4000 years living tradition of music, dance, folk and fine arts, wildlife and scenic beauty. The state is also renowned for medical tourism with medical care centers in Chennai, Vellore, Coimbatore and Madurai.
Tamil Nadu is one of the most popular tourist destinations of India.
The state is home to five UNESCO World Heritage sites: the Great Living Chola Temples (the Brihadisvara Temple at Thanjavur, the Temple of Gangaikondacholisvaram and the Airavatesvara Temple at Darasuram), the Nilgiri Mountain Railway and the Group of Monuments at Mahabalipuram.
More than 34000 Hindu temples of Dravidian architecture style with colourful gateway towers, sculpted gods and intricately carved pavilions draw pilgrims from around India and abroad. The major temples in the state include: Madurai's Sri Meenakshi Temple, Brihadeeshwara Temple (Thanjavur), Airavatesvara Temple (Kumbakonam), Gangaikonda Cholapuram (Thanjavur), Kapaleeshwar Temple (Chennai), Ramanathaswamy Temple (Rameswaram), Kanthimathi-Nellaiyapper Temple (Tirunelveli), etc.
The hill stations of the Western Ghats are renowned for lush pine forests, little tea houses, cardamom plantations, colonial British heritage, grand old palace hotels and moderately cool weather. During the bustling summer festival season number of festivals is held throughout the hills (May-June) including boat races on the lake, horse racing, flower shows and music. Coonoor, Ooty and Kodaikanal are amongst the most popular hill stations in the country.
Tamil Nadu has many national parks, biosphere reserves, wildlife sanctuaries, elephant and bird sanctuaries, reserved forests, zoos and crocodile farms. The Mudumalai National Park and the Gulf of Mannar Biosphere Reserve are among the popular ones.
The festivals of the state celebrate the joy of music and dance. Among the most popular ones are: International Music Festival in Thiruvaiyaru (January), Natyanjali Dance Festival in Chidambaram (February/March), Summer Festivals (May-June), Chennai Festival of Music and Dance (December/January) and Mamallapuram Dance Festival (December/January). Other festivals include: Pongal - a four-day harvest festival and one of the most widely celebrated festivals throughout Tamil Nadu (January), Chennai Sangamam (January), Teppam or Float Festival in Madurai (January/February), etc.
Tamil Nadu is known for its rich tradition of literature, music and dance. Bharatanatyam - the classical dance form originate from Tamil Nadu. There is a large number of folk dances in the region. The most celebrated of these dances is the karakattam performed in praise of the rain goddess Mariamman, mayilaṭṭam and oyilattam, danced in a circle.
Tamil Nadu is also home to the Tamil film industry also known as Kollywood, traditional art form kolam, Tanjore painting and many other art forms.
The region is famous for Kanchipuram and Tanjore silk. The hill stations of Ooty and Kodaikanal produce aromatic and medicinal oils from herbs, flowers and eucalyptus. Other handicrafts of the region include miniature paintings on leaf skeletons, Woraiyur cigars, articles made of sea shells, etc.
The South Indian food specialties include idli (spongy, round fermented rice cake), vada (deep-fried lentil-flour doughnut) served with coconut chutney and sambar (lentil broth), kozhukkattai (steamed dumplings made with rice flour), puttu (steamed layered, cylindrical cakes made with flour), aviyal (stew of vegetables with fresh coconut). Traditionally prepared filter coffee is unique in taste and popular all over the state. The popular sweetmeat includes Thirunelveli halwa and jigarthanda (milk dessert).
Tamil is the official language of the state and majority of population (86%) are Hindus.
Tamil Nadu experiences tropical climate. May and June are the hottest months with average temperature of about 38 °C (100 °F) while December and January are the coolest months with average temperature of about 20 °C (80 °F). Monsoon rains are from June to September and through October to December.