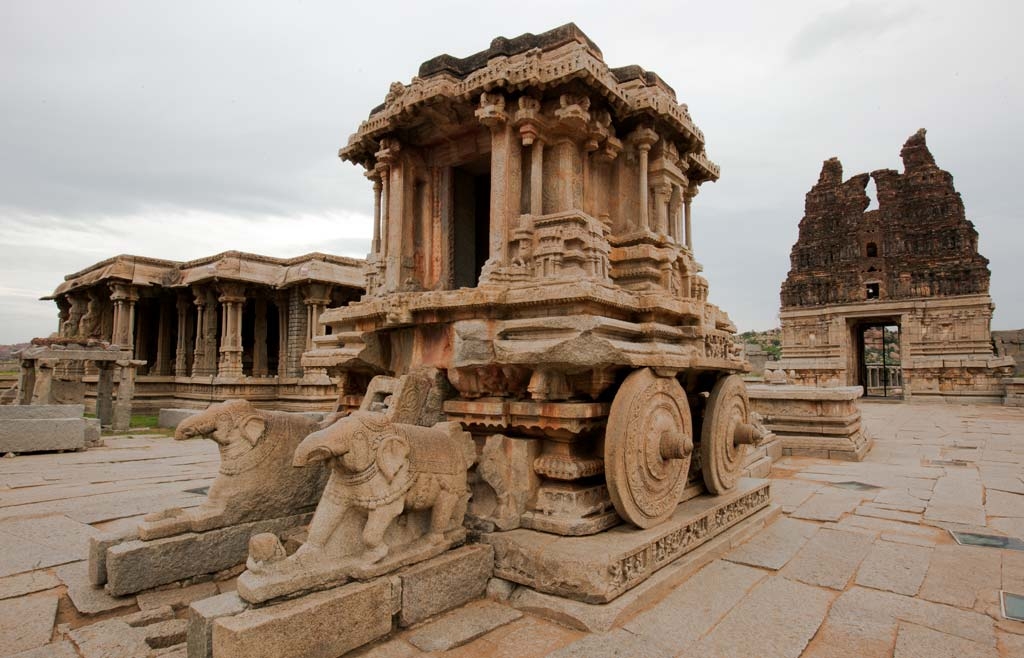 Karnataka
Karnataka is a state in Southern India, bordered by the Arabian and the Laccadive Sea to the west. The capital and largest city is Bengaluru, previously known as Bangalore also popularly called the Silicon Valley.
Ancient sculptured temples, scenic hill stations, verdant valleys, coffee plantations, eco-tourism, unexplored forests and beaches, Yoga and Ayurvedic Health centres, modern cities, archaeological sites, cultural and artistic variety – the state has everything on offer, making it one of the most popular tourist destinations in India.
Karnataka has been home to some of the most powerful empires of ancient and medieval India. The Maurya, Chalukyas, Cholas, Gangas and Hoysalas dynasties have left a lasting mark in the form of stunning caves and temples across the state. The ruins of the Vijayanagara Empire at Hampi and the monuments of Pattadakal are designated UNESCO World Heritage sites. Other historical sites such as the cave temples at Badami, the rock-cut temples at Aihole, the temples at Belur and Halebidu are proposed UNESCO world Heritage sites. Karnataka state is home to the tallest sculpted monolith in the world - Gomateshwara Bahubali at Shravanabelagola attracting thousands of Jain piligrims from across the country.
Other tourist sites in the state include: Gol Gumbaz (at Bijapur), Somnathpur Temple (at Mysore), Mysore Maharajah's Palace, Chennakesava Temple (Belur), Namdroling Nyingmapa Monastery (at Mysore), Halebidu Temple (at Halebid), Matanga Hill (at Hampi), Wonderla Amusement Park (at Bengaluru), Art of Living International Center (Bengaluru), etc.
Karnataka is geographically diverse region consisting of three different zones: coastal, hilly region and the plains. The main rivers in the region are the Krishna and the Kaveri with number of waterfalls to be explored: Gokak Falls, Unchalli Falls, Magod Falls, Abey Falls, Shivanasamudra Falls and India's tallest single-tiered waterfall - the Jog Falls. The coastline of Karnataka is dotted with shimmering beaches. The popular ones include Murudeshwara, Gokarna, Malpe and Karwar, etc. The Kodagu district also known as Coorg with its main town Madikeri is regarded as one of the most alluring hill stations of South India.
Karnataka has 25 wildlife sanctuaries and five national parks with a rich diversity of flora and fauna. Elephant, tiger, leopard, gaur, sambar deer, spotted deer, bonnet macaque are common habitants that can be spotted at Bandipur, Bannerghatta and Nagarhole National Parks. Elephant rides are available at the Dubare Forest Reserve near Madikeri and Bannerghatta National Par located close to Bengaluru.
The region is known for Dravidian crafts. Bidri (blackened metal) is a popular form used to make varied handicrafts. Mysore in Karnataka is especially famous for its paintings, sandalwood oil and carvings, silk saris, and peta (traditional headgear). Carnatic music, dance, drama, storytelling are all very popular throughout the state. Yakshagana, a classical dance drama, is one of the major theatrical forms of Karnataka.
Karnataka's cuisine is similar to Goa's with rice being the staple food. Bengaluru is famous for Puliyogare (Tamarind Rice), Mavinakayanna (Mango Rice) and Chithranna (Lemon Rice). Kodagu reagion is known for spicy curries, including Koomu Curry (spicy mushroom curry), Koli Curry (aromatic chicken curry) and Yarchi Manga Curry (lamb curry flavoured with raw mangoes). Seafood is popular in the coastal areas.
Other Karnataka's specialties include Bisi Bele Bath (rice-based dish), Pandhi (pork) Masala, Jolada Rotti (flatbread), Benne Dose (butter dosa), Uppittu (roasted semolina seasoned with spices), etc.
The region is known for its many festivals celebrated throughout the year. The major ones are: Ganesh Chaturthi - Hindu festival celebrated in honour of the god Ganesha (September); Dussehra – one of the most important Hindu festivals (October); Classical Dance Festival (January-February), Vijaya Utsav – a three day cultural festival at Hampi (January), Vairamudi Festival – Hindu festival (March-April), Lakshadeepotsava – Jain Festival (November), Huthri – Harvest Festival (November-December), etc.
The majority of population is Hindu (83%) with Kannada being the most widely spoken and official language of the state.
Karnataka experiences four seasons. Winters last from January to February with lowest temperature of 2.8 °C (37 °F). While the maximum temperature is 45.6 °C (114 °F) in summers (March and May). The monsoon season is between June and September and the so called post-monsoon season is from October to December.