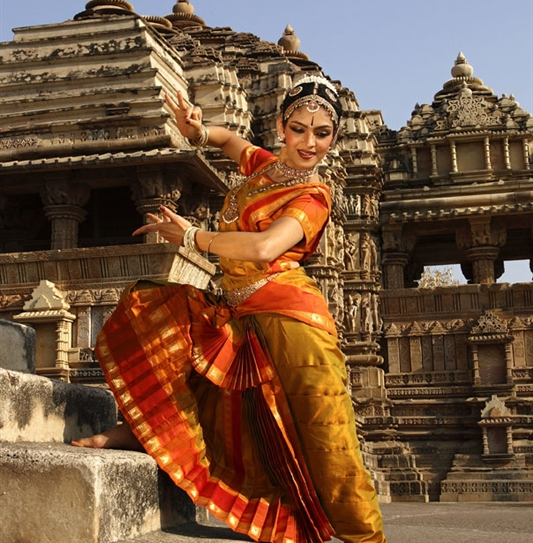 Madhya Pradesh
Madhya Pradesh is a state in North-central India. The capital city of the state is Bhopal, and the largest city is Indore. Madhya Pradesh is the second largest state in India with a population of over 75 million. Madhya Pradesh literally means Central Province and due to its geographical location it is often referred to as the Heart of India.
The region was ruled by the major dynasties of India, including the Mauryans, Gupta Empire, Harshavardhana, Rajputs, Paramaras, Chandelas, Bundelas, Tomaras, Mughals and Marathas. The region is dotted with innumerable monuments, exquisitely carved temples, stupas, forts and palaces. The state is rich with cultural heritage of Hinduism, Islam, Jainism and Buddhism. There are three UNESCO World Heritage sites in the region: Khajuraho Group of Monuments, Buddhist Monuments at Sanchi, Rock Shelters of Bhimbetka.

Major tourist sites in Madhya Pradesh include: Khajuraho Erotic Temples, Bandhavgarh National Park, Kanha National Park, Gwalior, Orchha, Sanchi Stupas, Maheshwar, Mandu, Ujjain, Omkareshwar.
Spectacular mountain ranges, rivers, hills, lakes, dense forests – Madhya Pradesh has it all. Madhya Pradesh is home to 11 National Parks and a number of nature preserves including: Bandhavgarh National Park, Kanha National Park, Satpura National Park, Sanjay National Park, Madhav National Park, etc.
Madhya Pradeshstate is also known for a number of festivals and fairs. Major festivals and fairs in the state include: Khajuraho Festival of Dance – a week-long event with Indian classical dancers performing amid floodlit temples, Shivaratri Mela with up to 100,000 Shaivite pilgrims, sadhus (spiritual men) and Adivasis (tribal people) attending celebrations at Mahadeo Temple, Magh Mela - a huge annual religious fair held on the banks of the Shipra River at Ujjain, Ahilyabai Holkar's Birthday - the Holkar queen's birthday celebrated with palanquin processions through the Maheshwar town, Navratri – a festival of Nine Nights, Tansen Music Festival – a four-day music festival attracting classical musicians and singers from all over India.
The cuisine in Madhya Pradesh varies regionally. Dal bafla is a common meal, consisting of a steamed and grilled wheat cake dunked in rich ghee which is eaten with daal (lentil, pea or various types of bean) and ladoos (ball-shaped sweets made of flour, minced dough and sugar).

Madhya Pradesh is home to a large tribal population and number of ethnic groups. Majority of people follow Hinduism (91%). The official language of the state is Hindi. The other widely spoken language in the region is Marathi.

Madhya Pradesh has a subtropical climate with hot dry summers (April–June), followed by monsoon rains (July–September) and a cool and relatively dry winter.