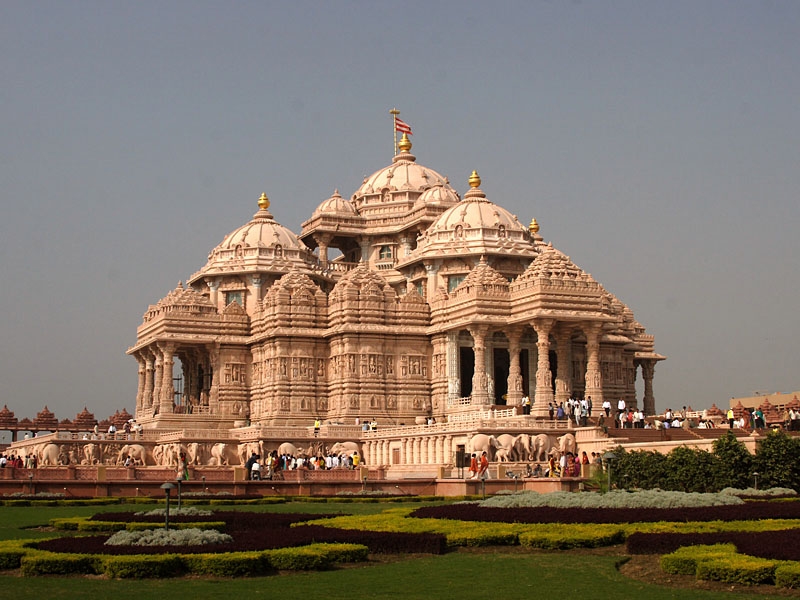 New Delhi
New Delhi is the capital city of India. It is a Union Territory with a population of around 23 million in the metropolitan area and 11 million living in the city. Delhi stands in a triangle formed by the river Yamuna in the east and spurs from the Aravali range in the west and south.
New Delhi is a cosmopolitan, multi-ethnic and multicultural vibrant city and the largest commercial centre in North-Central India. National events such as Republic Day (26 January), Independence Day (15 August) and Gandhi Jayanti (Gandhi's birthday, 2 October) are celebrated with great enthusiasm. The three day Qutub Festival, held in November-December each year, is a cultural event during which performances of musicians and dancers from all over India are showcased at night, with the Qutub Minar – the UNESCO World Heritage site, at the backdrop of the event.
New Delhi's architecture is a symbol of British power and supremacy. The heart of New Delhi is Connaught Place (CP) with the British-designed colonial architecture. The Old Delhi, once the capital of Islamic India, different from New Delhi's wide streets, is a labyrinth of narrow lanes lined with crumbling havelis, bazaars and formidable mosques.
New Delhi is home to several historical sites and museums and three UNESCO World Heritage sites: Red Fort (Lal Qila), Humayun's Tomb and Qutub Minar.
The popular museums in the city include National Museum, Indira Gandhi Memorial Museum, National Gallery of Modern Art, National Museum of Natural History, National Rail Museum with steam-age behemoths, National Handicrafts and Handlooms Museum, Nehru Planetarium, Shankar's International Dolls Museum, etc.
New Delhi is the shopper's paradise with its many shopping malls and bazaars including: Janpath, Chandni Chowk, Khan Market, Connaught Place, Central Market, Paharganj Market, etc. There are number of emporiums in the city selling the handicrafts of different regions, like Cottage Emporium, Dilli Haat, Handicrafts and Natural Products Emporium, etc.
Delhi has Asia's largest wholesale fruit, vegetable and spice markets.

New Delhi is popular for street food like shakarkandi (roasted and spiced sweet potato served with slices of star fruit, lime juice and masala), aloo tikka (deep-fried stuffed potato patties), kheer (rice pudding), Kuremal ice cream and deep fried fritters drenched in sugar syrup, etc.

Major festivals and fairs in New Delhi include: Republic Day known for a spectacular military parade, Beating of the Retreat - military pageantry closing the Republic Day celebrations, Independence Day marking India's independence from Britain in 1947 with the prime minister addressing the nation from the Red Fort ramparts, Qutb Festival held over several days, featuring Sufi singing and classical dance performances, Delhi International Arts Festival - three weeks of exhibitions, performing arts, films, literature and culinary events at Delhi-wide venues.
Hinduism is the dominant religion (79.8%) in the city. There are also communities of Muslims (12.9%), Sikhs (5.4%), Jains (1.1%) and Christians (0.9%).

The climate of New Delhi is a monsoon-influenced humid subtropical climate with hot summers and mild winters. The temperature varies from 46 °C (115 °F) in summers to around 0 °C (32 °F) in winters.