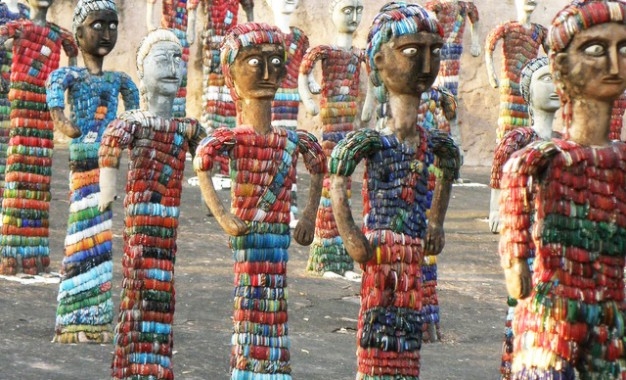 Chandigarh
Chandigarh is a Union Territory in North-Central India and the capital city of two states: Haryana and Punjab. Chandiharh is also known as The City Beautiful. It is the first planned city in India post-independence in 1947 planned by a Swiss-French architect Le Corbusier. Chandigarh is a green city, with broad streets and many parks. It was the first smoke-free city in India.

Chandigarh hosts the largest of Le Corbusier's many Open Hand sculptures, a symbol of peace and reconciliation. A sculpture of a hand which is 'open to give and open to receive' stands at 26 metres high.
Chandigarh is located near the foothills of the Sivalik range of the Himalayas in north-central India. The city is surrounded by protected forests that inhabit many animal and plant species, like deer, sambars, barking deer, parrots, woodpeckers and peacocks. Sukhna Lake hosts a variety of ducks and geese, and attracts migratory birds from parts of Siberia and Japan.
Chandiharh is the site of the biggest rose garden in Asia. Zakir Hussain Rose garden is spread over 30 acres (120,000 m2) of land, with 50,000 rose-bushes of 1600 different species. The other popular gardens in the city are, Terraced Garden, Bougainvillea Garden and Rock Garden, consisting of man-made interlinked waterfalls and many other sculptures that have been made of scrap and other kinds of wastes (bottles, glasses, bangles, tiles, ceramic pots, sinks, electrical waste, etc.)
Major tourist sites in the city include: Sukhna Lake, Rock Garden, Rose Garden, Leisure Valley, Open hand monument, Terraced Garden, etc.

Chandigarh cuisine is inspired by Punjabi cuisine, with Punjabi foods like paratha (flatbread) and roti made from corn flour (makki) with Sarson da saag (vegetable dish made from mustard leaves and spices). Gol Gappa is a famous dish. It consists of a round, hollow puri, fried crisp and filled with a mixture of flavoured water among other ingredients.
Chandigarh has a humid subtropical climate with very hot summers, mild winters and heavy monsoons. Average temperatures in the winter remain at 5 °C to 14 °C (41 °F to 57,2 °F) and vary between 40 °C to 42 °C (104 °F to 107,6 °F) in summers.