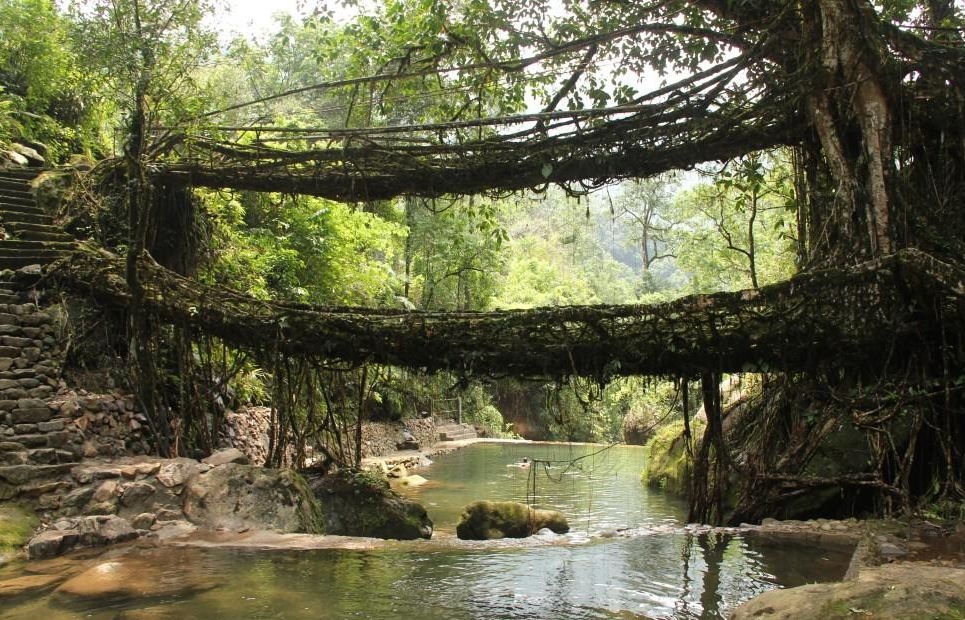 Meghalaya
Meghalaya is one of the seven states of North-Eastern India known as Seven Sister States. Meghalaya shares an international border with Bangladesh in the South. The capital and the largest city of the state is Shillong.
The state's name literally translates The Abode of Clouds and the region is considered to be the wettest state of India. Meghalaya is often compared to Scotland for its highlands, fog and scenery.
MAJOR TOURIST SITES
Major tourist destinations in the state include: Shillong, Tura, etc.
NATIONAL PARKS
The majority of the territory is covered by forests notable for their biodiversity of mammals, birds, plants and is considered to be among the richest botanical habitats of Asia. Meghalaya has 2 National Parks and 3 Wildlife Sanctuaries. The important mammal species include elephants, bear, red pandas, civets, mongooses, weasels, rodents, gaur, wild buffalo, deer, wild boar and a number of primates. Meghalaya's forests host 660 species of birds, many of which are endemic to Himalayan foothills.
Among the popular national parks are: Nokrek National Park, Balpakram National Park, Siju Bird Santuary, Baghmara Reserve Forest, etc.
HANDICRAFTS
Meghalaya has a rich craftsmanship and art heritage known for artistic weaving, wood-carving, cane and bamboo work, carpet and silk weaving, jewellery and pineapple fibre articles.
FOOD
Meghalayan cuisine is unique and is known for spiced, pickled bamboo shoots, minil songa (steamed sticky rice) and momo dumplings. Some of the popular dishes include: jadoh (red rice, cooked with pork, chicken or fish), Doh-neiiong (a pork curry dish); doh khlieh (a salad made out of minced pork, onions and chillies), nakhmam bitchi (a soup made from dry fish), pumaloi (steamed powdered rice), etc.
Like the rest of northeast India, Meghalayan trybes are also famous for producing fermented rice beer.
FESTIVALS
The major tribal groups in Meghalaya follow a matrilineal system where lineage and inheritance are traced through women. The youngest daughter inherits all the property and she is the caretaker of aged parents and any unmarried siblings. Each tribe has its own culture, traditions, dress and language.
Among the popular festivals are: Autumn Festival celebrated in Shillong (October); Behdienkhlam Festival – the harvest festival being one of the major in the region and famous for impressive dancing (June/July); Nongkram Dance - a religious dance festival (May or November), etc.
CLIMATE
The maximum temperature in the summers is about 28 °C (82 °F) and 28 °C (32 °F) in the winters.
Best time to visit is September to April.