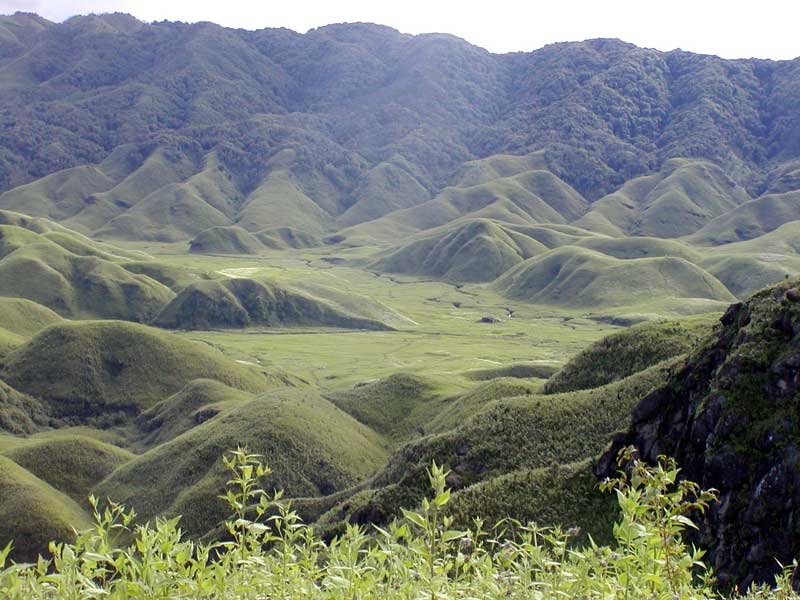 Nagaland
Nagaland is one of the seven states of North-Eastern India known as Seven Sister States. The capital city of the state is Kohima while the biggest city is Dimapur. The state shares international border with Birma to the east.
Visitors to Nagaland are required special permit.
MAJOR TOURIST SITES
Major tourist destinations include: Kohima, Mokokchung, Wokha, Mon, etc.
Kohima hosts the World War II Cemetery, and Kisama War Museum, in honour of those who lost their lives during World War II during the fighting between British Empire and Japanese troops.
NATIONAL PARKS
Nagaland is a mountainous state. There are three wildlife sanctuaries including: Fakim Sanctuary, Pulie Badze Sanctuary and Itanki Wildlife Sanctuary. Some animals found in the region are Tiger, Bison, Slender Loris, Himalayan Bear, Hoolock gibbons, Panther, Wild Boar, Barking Deer, Jungle Cat, Sambar, etc. Some of the rare species of birds that can be seen here are Indian Horn Bill, Tragopan Pheasant, Grey Pheasant, Jungle Fowl, etc. Nagaland is home to 396 species of orchids.
HANDICRAFTS
Weaving is a traditional art handed down through generations in Nagaland. Each of the tribe has its own unique designs and colours, producing shawls, shoulder bags, decorative spears, table mats, wood carvings, and bamboo works.
FOOD
Nagaland's cuisine is known for pork meats cooked with simple and flavourful ingredients, fermented bamboo shoots, soya beans, chillis.
Rice beer is the main drink. The popular beer is of three kinds: Zutho, Ruhi, and Dzutse and it is served with mashed roasted millet, soya bean and red chilli.
FESTIVALS
Tribal culture is explored via folk dances, songs, tales and stories.
Nagaland is often referred to as the Land of Festivals. The region is known for Hornbill Festival – a one week celebrations at Kisama Heritage Village, promoting the cultural heritage of the state. It is rich in colourful performances, traditional dances, crafts, sports, food fairs, games and ceremonies (December). Other festivals include: Moatsu Festival celebrated by the Ao tribe (May); Nazu festival celebrated for 10 days by the Pochury tribe (Februarry); Sekrenyi Festival celebrated by the Angamis (February); Tuluni festival celebrated by the Sumi Naga during the second week of July, etc.
CLIMATE
Nagaland has a largely monsoon climate with high humidity levels. Monsoon season is from May to September. Maximum temperature in summers is around 40 °C (104 °F) and minimum temperature is about 4 °C, (39 °F), frost is common at high elevations.
Best time to visit is October to April.