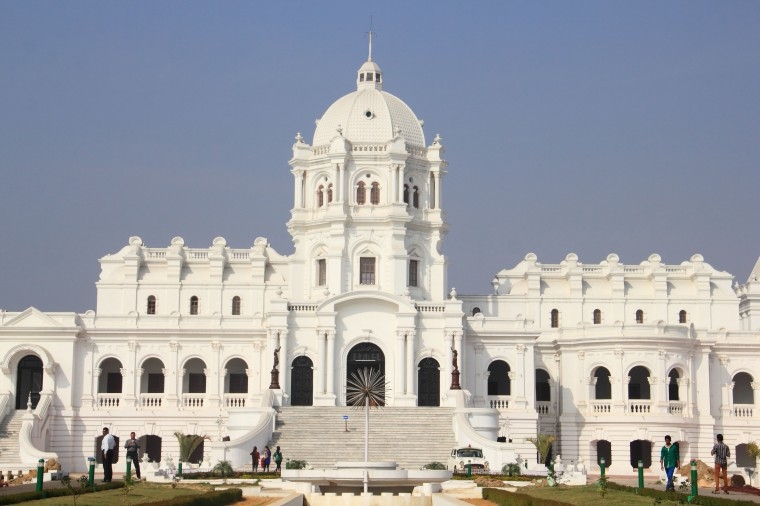 Tripura
Tripura is one of the seven states of North-Eastern India known as Seven Sister States. The capital city of the state is Agartala. The state shares international border with Bangladesh to the north, south and west.
Visitors to Tripura are required special permit.
Tripura is the princely state of North-East India known for rich cultural heritage and nature beauty. The region consists of hill ranges, valleys, plains and fresh waters. Forests cover more than half of the area, in which bamboo and cane tracts are common.
The state is inhabited by 19 tribes.
MAJOR TOURIST SITES
Major tourist destinations include: Agartala.
NATIONAL PARKS
Wildlife sanctuaries and National parks of the state include Sipahijola, Gumti, Rowa and Trishna wildlife sanctuaries and Clouded Leopard National Park and Rajbari National Park.
Tripura hosts over 90 land mammal species including elephant, bear, binturong, porcupine, barking deer, sambar, gaur, clouded leopard, etc. There are nearly 300 species of birds in the state.
HANDICRAFTS
Tripura is noted for bamboo and cane handicrafts. The typical handloom consists of vertical and horizontal stripes with colourful embroidery.
FOOD
The cuisine of Tripura is essentially non vegetarian and hence the key ingredient include berma, which is dried and fermented fish, bangui rice, fish stews, bamboo shoots, fermented fish, local herbs, and meat roasts. Chuak is the traditional Tripuri rice-beer. It is made by fermenting rice in water.
FESTIVALS
Bengali people represent the largest ethno-linguist community of the state. Elements of Bengali culture, such as Bengali literature, Bengali music, and Bengali cuisine are widespread, particularly in the urban areas of the state.
Durga Puja is the biggest festival of Tripura and is celebrated with a zeal. Dance, music and other cultural activities are an integral part of this festival (September/October).
CLIMATE
The state has a tropical savannah climate, with maximum temperature in the summers of about 36 °C (97 °F) and minimum temperature of 13 °C (55 °F) in winters. The monsoon season is from May to September while humidity is generally high throughout the year.
Best time to visit is October to April.