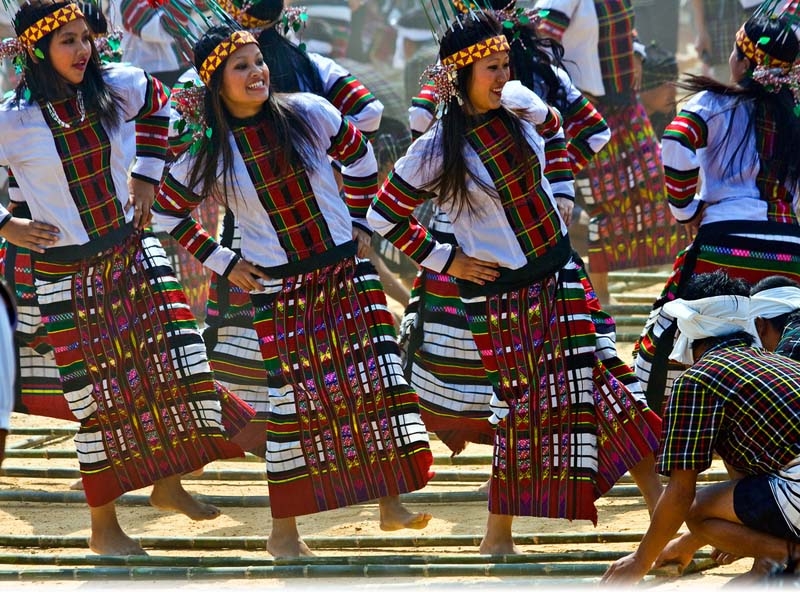 Mizoram
Mizoram is one of the seven states of North-Eastern India known as Seven Sister States. Mizoram literally translates the Land of the Hill People. The capital city of the state is Aizawl. The state shares international border with Bangladesh and Myanmar. Visitors to Mizoram are required special permit.
Major tourist sites in the state include: the capital city Aizawl, border town Champai, Chawngtlai - Mizo historical village, Thenzawl and Lunlei towns, Palak and Tam Lakes, Vantawng Falls, etc.
Mizoram is a land of hills, valleys, rivers and lakes. About 91% of the state is forested. More than 640 species of birds have been identified in the state, many of which are endemic to Himalayan foothills and south east Asia. The state has two national parks and six wildlife sanctuaries. Dampa Tiger Reserve is the largest wildlife sanctuary in the region. Mammal species observed in the Mizoram forests include Slow Loris, Red Serow, Goral, Tiger, Leopard Cat, Asiatic Black Bear, Stump-tailed Macaque, Hoolock Gibbon, Phayre's Leaf Monkey, Capped Langur, etc. Phawngpui Tlang also known as the Blue Mountain is the highest peak in Mizoram at 2,210 metres (7,250 ft) near the Myanmar border famous for orchids and rhododendrons flowers.
Rice is the staple food of Mizoram. Most of the dishes are cooked in mustard oil and are less spicy than in most of India. Dishes are served on fresh banana leaves. Popular dishes include bai (boiled spinach with pork and bamboo shoots, served with rice) and sawchair (made of rice and cooked with pork or chicken). Alcohol is banned in the state.
Mizoram has the highest concentration of tribal people among all states (95%). Christianity is the dominant religions (87%) while Mizo is the official language of the state. In modern Mizoram, much of the social life often revolves around church.
Mizoram has many traditional dances, such as: Cheraw - a dance with bamboo sticks, Khuallam - a dance celebrating successfully hunting, Chheihlam, Chai, etc.
The main Mizo festivals are Chapchar Kut celebrating the beginning of spring, Mim Kut Festival celebrated after the harvest of maize and Pawl Kut celebrating the harvest, Anthurium Festival, etc. The festivals are celebrated with folk dancing and song.
Mizoram has a mild climate with maximum temperature in summers 20 to 29 °C (68 to 84 °F) and 7 to 22 °C (45 to 72 °F) in winters. The monsoon season is between May to September.