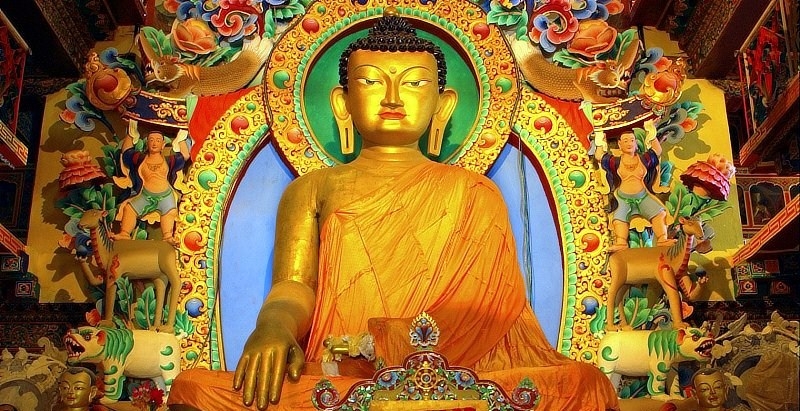 Arunachal Pradesh
Arunachal Pradesh is a state in North-eastern India. The state shares an international border with Bhutan in the west, Myanmar in the east and China (Tibet) in the north. Itanagar is the capital of the state.
Arunachal Pradesh is the most north-eastern state in the country. The state's name literally translate The Land of Rising Sun. There are 26 major tribes in the state with their own unique set of traditions and customs. The major tribes are: Adi, Galo, Aka, Apatani, Nyishi, Tagins, Bori, etc.
The land is mostly mountainous with most of the area being covered by the Himalayas. The region is divided into five river valleys: the Kameng, the Subansiri, the Siang, the Lohit and the Tirap.

Arunachal Pradesh is known for Buddhist monasteries, cultural festivals, bamboo bridges overhanging the river, religious places, natural parks and wildlife sanctuaries. Popular activities in the state include angling, boating, rafting, trekking and hiking.

Major tourist sites in the state include: Tawang, Ziro, Basar, Namdapha tiger project in Changlang, Sela Lake near Bomdila, etc.

The region is rich with tribal songs correlated to folk history, mythology and historical accounts. Ja-Jin-Ja, Bariy are special songs sung on marriages and social gatherings often accompanied by musical instruments, like drums and cymbals. Traditional crafts of the state include Buddhist and tribal arts likes, masks, silverware, painted wooden vessels, carpets, varies bamboo crafts, wooden carvings, pottery, weaving and ivory work.

Arunachal Pradesh cuisine varies as per region and tribe. The tribal cuisines use herbs with medicinal properties, fresh spices, fermented bamboo shoots and fresh scented leaves. Rice is the staple food of all the tribe's of Arunachal Pradesh where the cooked rice is wrapped in leaves to serve. Traditional dishes include thukpa (Tibetan noodle soup), momos (a type of dumpling), wungwut ngam (chicken with rice powder), pasa (fish soup), ngatok (fish curry), apang or rice beer, made from fermented rice or millet, etc.

Arunachal Pradesh has the highest number of regional languages in South Asia. Major religions in the regions are Buddhism, Donyi Poloism (worship the Sun God and the Moon God), Christianity and Hinduism. Different tribal groups have their own set of beliefs and notions about their religion.
The region is known for Torgya and Losar Festival, famous for ritual masked Tibetan Buddhist dances chaam performed in gompas (Buddhist monasteries) to celebrate the victory of good over evil, and Buddhism over pre-existing religions.

The climate of Arunachal Pradesh varies with elevation from sub-tropical with hot summers and mild winters to alpine or tundra. The average temperature in the summers is around 30 °C (90 °F), and 13 °C (50 °F) in the winters.